When you've always wanted to stand a little bit taller, height-increasing shoes can make all the difference.
These subtle shoes with the built-in elevator insole can give you a much needed boost, letting you see eye-to-eye with your coworkers in the office, feel more confident on first dates, and just generally feel better about yourself.
Plus, great new designs have made the latest versions of these shoes practically indistinguishable from regular shoes. This means if you're feeling a little bit self-conscious about your desire to be taller, no one needs to know about it.
And while it may take a moment for you to get used to walking in this new style of shoe, there is no doubt that you'll enjoy the way you feel.
As you get used to this new style of shoe and your new confidence, a world of possibilities await. Not only can you continue to buy elevator shoes in lots of different styles (Shoes That Make You Taller, for example, has formal elevator shoes, athletic elevator shoes, elevator boots, and elevator sneakers), but a lot of shoes also let you pick the height that you'd like, too.
Though there are a range of height lifts available, the three most popular amounts are 6 cm, 8 cm, and 10 cm, or 2.3", 3.1", and 3.9".
Looking for elevator shoes introduces a new variable in your shoe-buying experience. In addition to the style of the shoe and the size of your foot, you may also be looking for shoes that deliver a certain amount of boost.
To that end, today we're sharing with you some of our favorite styles of shoes across the three different heights to inspire you!
Elevator Shoes That Add 6 cm Or 2.3" In Height
What can be considered the introductory height to elevator shoes, adding 6 cm or 2.3" in height is a great place to start.
And who might consider wearing shoes like these?
For the 5'6" man in countries where the average height is 5' 9", the wide range of height-increasing shoes available at this level would be enough to bring him to the average.
For a lot of men, getting to 6'0" is seen as a noteworthy goal, so even those at the average height could give these shoes a try.
Below we have a selection of boots, shoes, and sneakers that showcase the wide range of elevator shoe styles available at this height.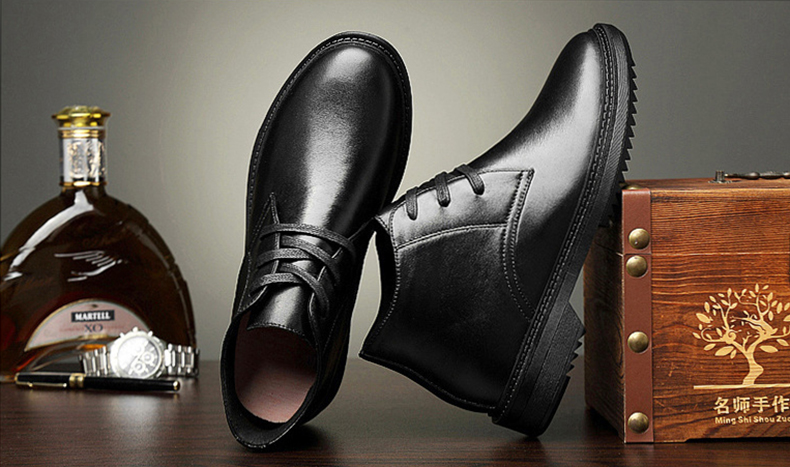 These Men's Black Chukka Elevator Boots are a great all-around pair of boots. For a pair that's just as easy to wear to the office as they are to wear out on a date, these black Chukkas look great.
Plus, the height-increasing insole is on the inside, so if you're trying to keep your height-boosting ways a secret, no one will be the wiser.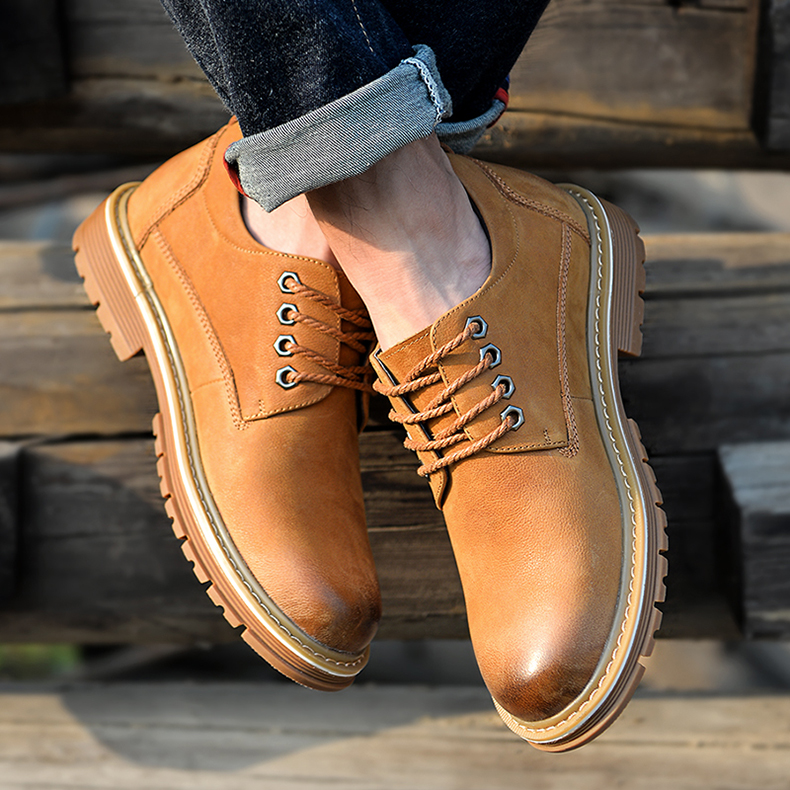 For a great pair of durable, any season shoes, you'll enjoy breaking in these Round Toe Elevator Shoes. As pictured here with a pair of cuffed jeans, they're an attractive pair to wear when the sun's out during the summer. But they're also built tough and made of leather, so they'll keep your feet warm and protected during the cooler months, too.
One of the most rewarding parts of watching the elevator shoe grow in popularity has been the emergence of great everyday designs like these Low Top Canvas Elevator Sneakers. Inspired by the Converse sneakers and playgrounds of our youth, these cleverly designed shoes easily disguise the height boost. And considering how flat these shoes tend to be, that's quite an accomplishment – and it'll make them even easier for you discreetly.
Elevator Shoes That Add 8 cm Or 3.1" In Height
Moving up to the next popular height for elevator shoes, there are plenty of varieties available – and plenty of reasons you might want to stand a bit taller.
While the 6 cm boost is great for everyday lift, there are both professional and personal situations where a bit more height is welcome. One thing to definitely keep in mind as you consider your own height boost is what kinds of scenarios you'll be wearing them in.
For example, if you're having to head out to a construction site where everyone is already going to be wearing boots, the mere fact that you're wearing regular boots isn't going to set you apart. It may even put you at a disadvantage. This is a case where going for 8 cm can actually help you level the playing field.
In more personal situations, the dating game is often where confidence matters most. But consider this: if you're getting ready to go out for your date and look your best, it's a sure thing she is, too.
And what is she likely wearing?
High heels.
So to give yourself more buffer and to make sure the evening goes great, upgrading to 8 cm can do the trick well.
See below for three of our favorite styles of 8 cm height-increasing shoes.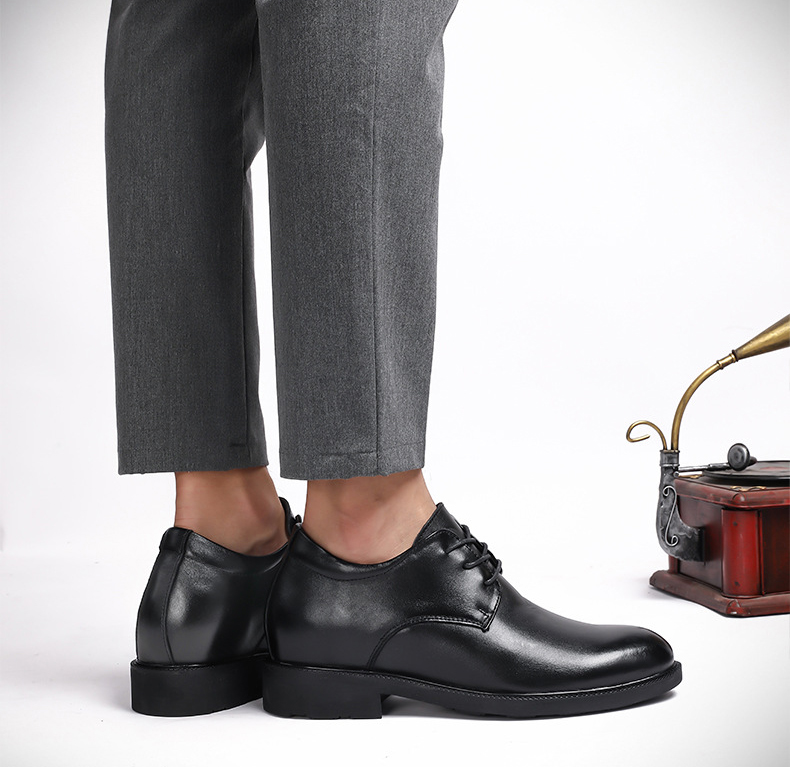 For those fancy date nights and those formidable board rooms, these classic Men's Dress Shoes That Add Height (also available in 6 cm) are more than ready to help you look and feel your best.
The classic design and leather shine help these shoes attract attention for all the right reasons. But like the other elevator shoes, having the elevator insole tucked away keeps your height-boosting ways a secret.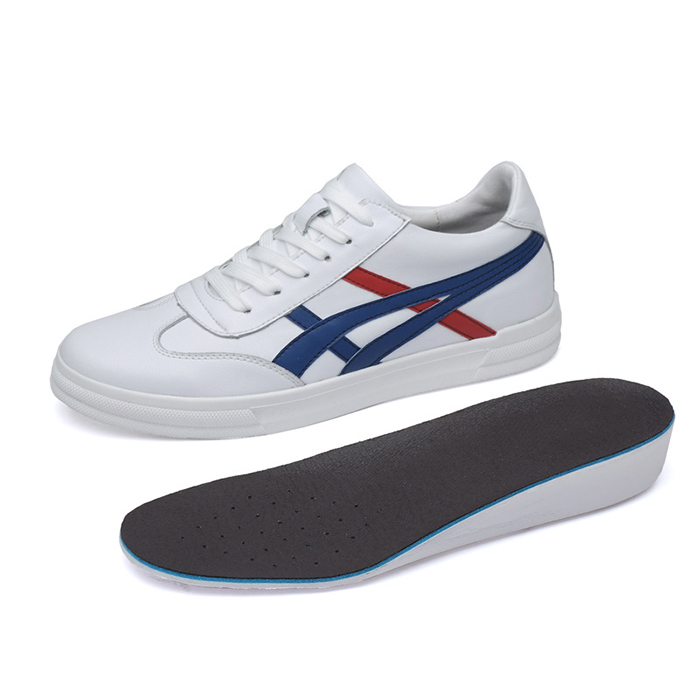 It may also be the case that you don't have any special event in mind, and you'd just like to stand a little taller. For that everyday height increase, we'd recommend these Low Top Lace Up Sneakers 2 Inch Elevator Shoes (also available in 6 cm).
What makes these elevator sneakers an ideal pair for all-around wear is their comfortable material. The leather uppers and fabric lining keep your feet cozy and protected, making all-day wear a breeze.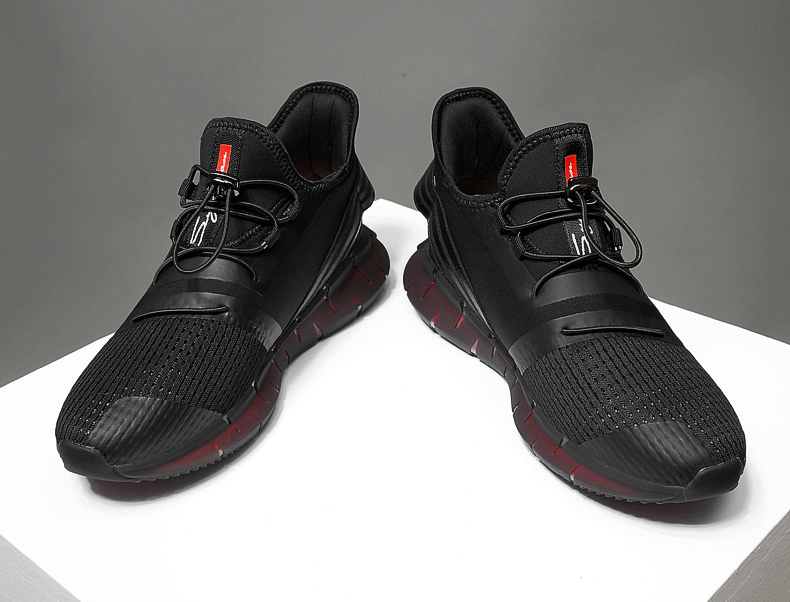 Working out is one of the best ways to feel good about your body and increase your confidence. But you shouldn't have to feel self-conscious while you're working out! That's why these Men's Mesh Elevator Running Shoes (also available in 6 cm) are much-needed.
With a modern styling and attractive black-with-red-accents design, these will give you self-esteem you deserve at the gym so you can get a great workout in.
Elevator Shoes That Add 10 cm Or 3.9" In Height
The next tier of elevator shoes are the ones that add nearly 4" in height. These are an ideal option for the shorter gentleman who's looking to stand much taller. Because this is a significant difference from your regular height, it's advisable to spend more time getting used to moving around in them at home before taking them out and about.
Because with a wide range of styles like you see below, you're going to want to get out there as soon as possible.
Take a look for yourself!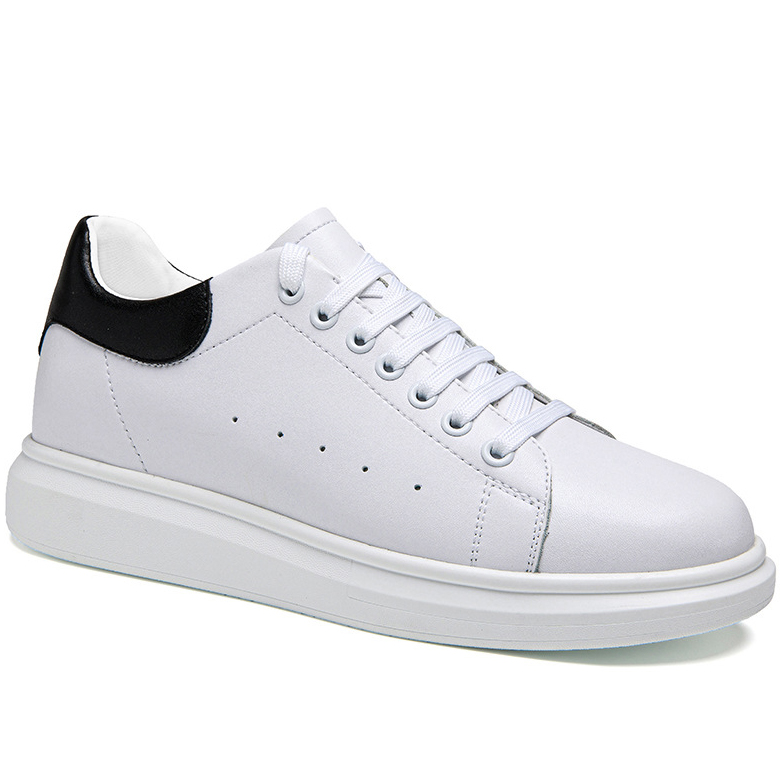 What's more necessary to every man's wardrobe than a classic pair of White Elevator Sneakers (also available in 6 cm and 8 cm)? With iconic detailing on the border and simple styling throughout, this is a refined way to class up an outfit without drawing too much attention to the height-increasing qualities.
This sporty shoe is a winner for weekends around town, parties, events, and more. When you look and feel as comfortable as you will in these White Elevator Sneakers, the confidence comes naturally.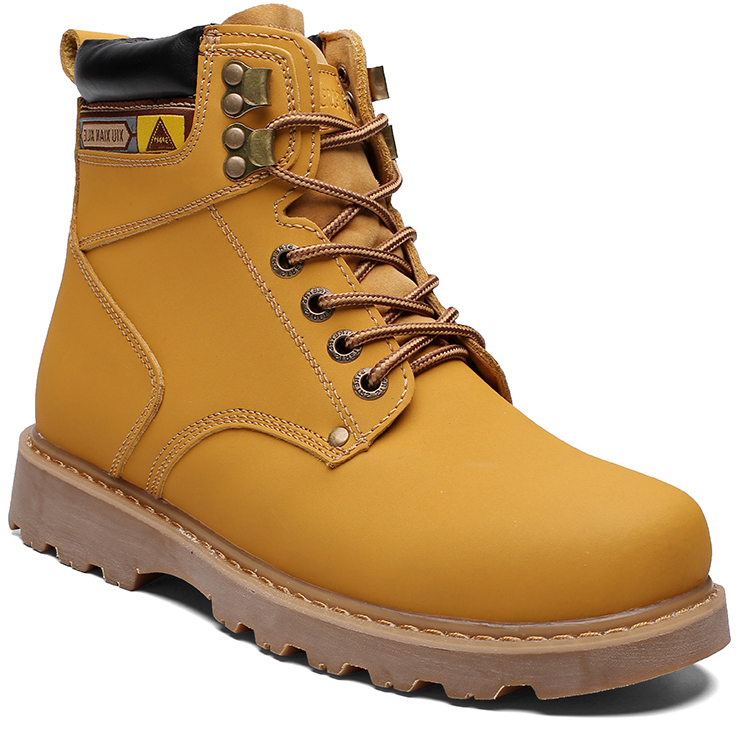 Whether your place of work requires boots or you just love the style, these Men's Waterproof Work Boots That Add Height (also available in 6 cm and 8 cm) are a commanding way to add height and confidence to your wardrobe.
Like we mentioned above, there may be situations where you're around other people who are already wearing boots. Since all-purpose boots often have a larger sole, you may find that you need to compensate to maintain your own relative height boost. With the 10 cm options for many of the work boots at Shoes That Make You Taller, you can feel free to rotate in different styles.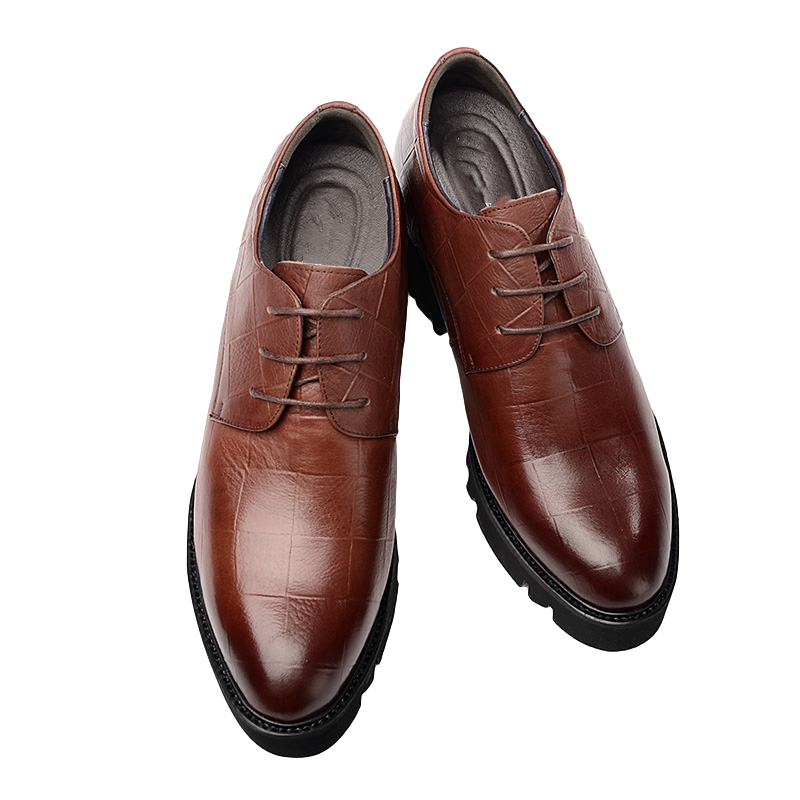 The workplace is often a source of stress. As such, we should do what we can to make sure we feel calm and confident. The 10 cm boost of these Dress Shoes That Make You Taller (also available in 6.5 cm and 8 cm) is sure to do just that.
Available in brown and black, you'll have plenty of flexibility no matter what the colors of your suits, slacks, and office formal wear are.
Choosing The Right Height For Your Elevator Shoes
So, how do you choose the right height for yourself?
Our recommendation would be to end up at the same size height boost for each shoe. Not only will that leave you feeling more comfortable, but it will also keep a consistency in your life. So if the people you see at work see you out on the town, or working out, you'll be able to maintain the same height thanks to that consistency.
Now, what if you're looking to go with the tallest option?
Though you can certainly go straight for 10 cm in height lift, that will certainly take an adjustment period. What might be more comfortable for you – not to mention safer as you get used to this new way of walking – is to start off with 6 cm.
There are plenty of styles of shoes that come with multiple height-increasing options. That way, you could start out with 6 cm with your favorite style, have the 8 cm in the same style, and then move up the 10 cm version. This can be a subtle way that won't attract attention from the friends or coworkers in your life.
However you decide to go ahead with your elevator shoes, Shoes That Make You Taller has the style and selection you need to help you feel like your best, most confident self.