There is no shortage of the benefits of exercise. One of the most important ones? How much it can boost your self-confidence.
Exercise boosts your confidence by helping you feel better. Exercise is beneficial to both mind and body, giving you the energy to feel your best, take on challenges, and come out ahead.
It helps you by making you stronger. That feeling of developing your physical strength is a sign of progress and growth, two elements that lead to higher levels of self-esteem.
It allows you to feel accomplished. Many forms of exercise, like weight lifting, are based on setting goals and achieving them. That regular progress builds confidence.
It improves your self-image. The above-mentioned progress can often be seen, whether it's in weight loss, muscle definition, or easier breathing.
And it heightens your ability to think clearly. Regular aerobic exercise improves cognitive function. When you perform better, you feel better.
It seems like a no-brainer: if you'd like to feel more confident, exercise is the key.
But what if you wish you felt more confident before even stepping foot into the gym?
It's true that there are times, especially for us shorter guys, when a lack of confidence can keep us from exercising in the first place.
It can feel frustrating. We know working out can give us confidence, but we'd feel even more secure to workout if we could stand just a bit taller.
Fortunately, there's a solution that's becoming more and more popular:

Elevator shoes can help you to stand taller and feel better in order to get in your best workouts yet.
The question, then, is just what kind of elevator shoes you should get to work toward your goals.
It all depends on the kind of workout you prefer. Let's take a look.
What Height Elevator Shoes Make For The Best Workout
When you're looking to stand taller at the gym, there are a few things to take into consideration for your new pair of elevator shoes.
Taking into account a shop like Shoes That Make You Taller, shoes range from hidden elevator insoles of 6 cm to 10 cm.
These shoes do take time to get used to, whether it's walking, jogging, or lateral movements like you might see in tennis.
Because you'll be standing up taller than normal, you do have more of a risk of becoming unbalanced. With that in mind, our advice would be this:
For more active workouts, consider shorter boosts. Think of basketball, tennis, or running.
For more controlled or stationary workouts, feel free to explore taller lifts. This could include weight lifting, gentle walking, or stationary bikes.
With that general rule of thumb in mind, let's get into the kinds of exercise activities you can perform in height-increasing shoes.
What Kinds Of Exercise Activities Can I Do In Elevator Shoes
Given the proper planning, you should be able to perform most of the everyday gym activities you would do in normal shoes.
Our staff and customers have reported enjoying the following sports with height-increasing sneakers: basketball, walking, running, weight-lifting, hiking, tennis, workout classes, and more.
The only exceptions we'd note are high-performance athletics, like competitions or endurance events. With elevator insoles, you'll need to moderate your exertion just a bit to compensate for the new way of walking, which could affect sports in which speed or endurance are a key factor.
Playing Basketball In Height-Increasing Shoes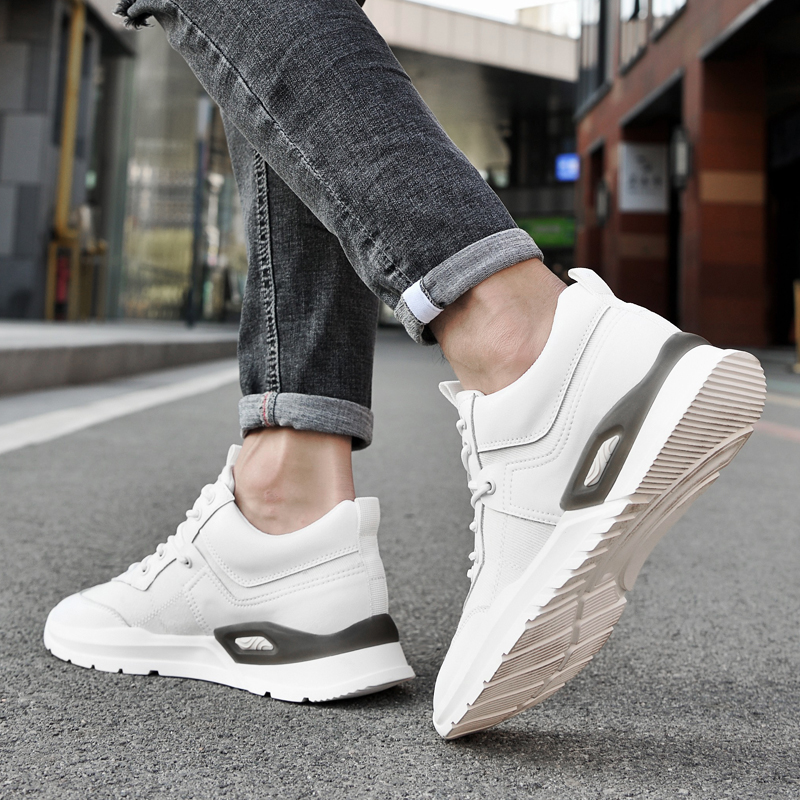 Basketball is definitely one of the sports where your height makes the biggest difference. That's why one of our most popular sellers is this pair of Basketball Shoes Height Increase, which are available with either a 6 cm or 8 cm boost.
Whether you have a below-average height and you're looking to feel more competitive or you're taller than normal and you'd like even more of an advantage, elevator shoes can give you a nice boost and a helpful edge when it comes to your next competition.
Like we'd recommend walking around beforehand when getting used to elevator shoes, you may also find it helpful to do some extra warm-up activities like recalibrating your shot. As you'll have a slightly different release point, it may take a few games to get used to the new angles.
Walking For Exercise In Elevator Shoes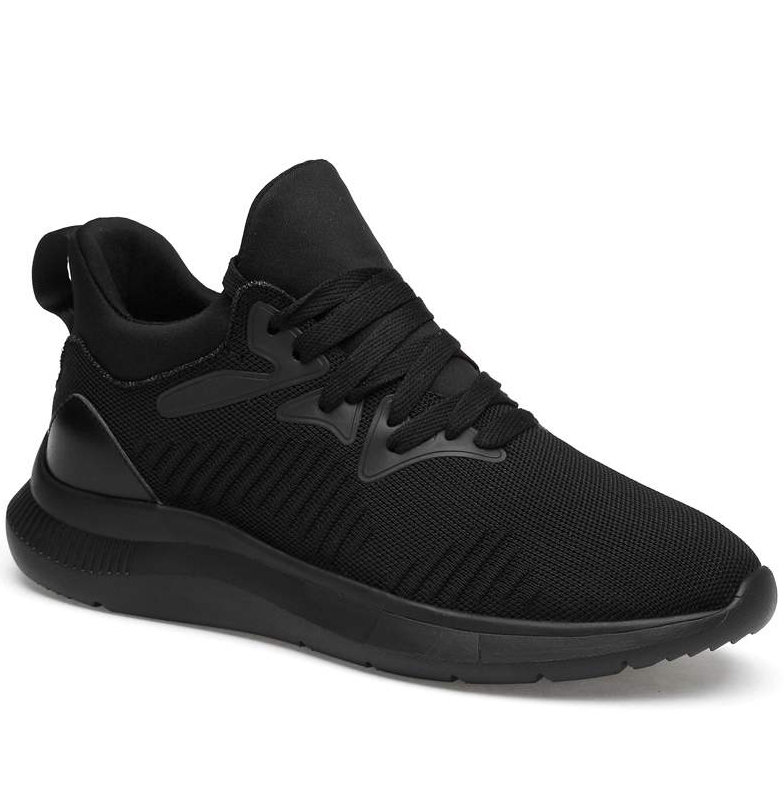 While it goes without saying that many height-increasing shoes are great for walking, some are especially well-designed to help you go the distance in comfort. Take these Black Knit Elevator Trainers, which are available with an 8 cm boost.
When you're walking for exercise in elevator shoes, you'll want to not only consider how the shoes feel on your feet but also the material that they're made of. The mesh knit uppers guarantee a breathability that keeps your feet cool during walks of twenty minutes, thirty minutes, or even an hour or more.
Plus, the solid, non-slip sole makes for a dynamic shoe, whether you find yourself on the treadmill at the gym or walking on trails outdoors.
Playing Tennis While Wearing Elevator Shoes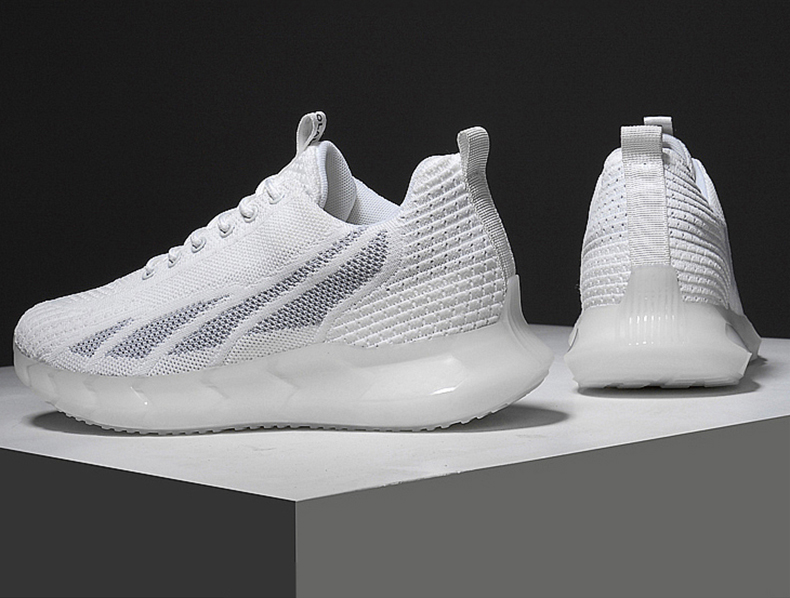 Another popular workout activity for those with access to it is tennis. One of our most recommended shoes for tennis aficionados are the Breathable Tennis Shoes Height Increase, which come with either a 6 cm or 8 cm lift.
Because tennis is inevitably a social sport, you'll end up playing with other people. These shoes can help you feel more confident about your height when you're matched up against players a bit taller than you are.
Plus, their construction allows for you to get into the intensity of the match without worrying about your feet. The mesh linings will let your feet breathe while you move back and forth, forward and back, across the court, winning match after match thanks to your new confidence.
Going Running In Height-Increasing Shoes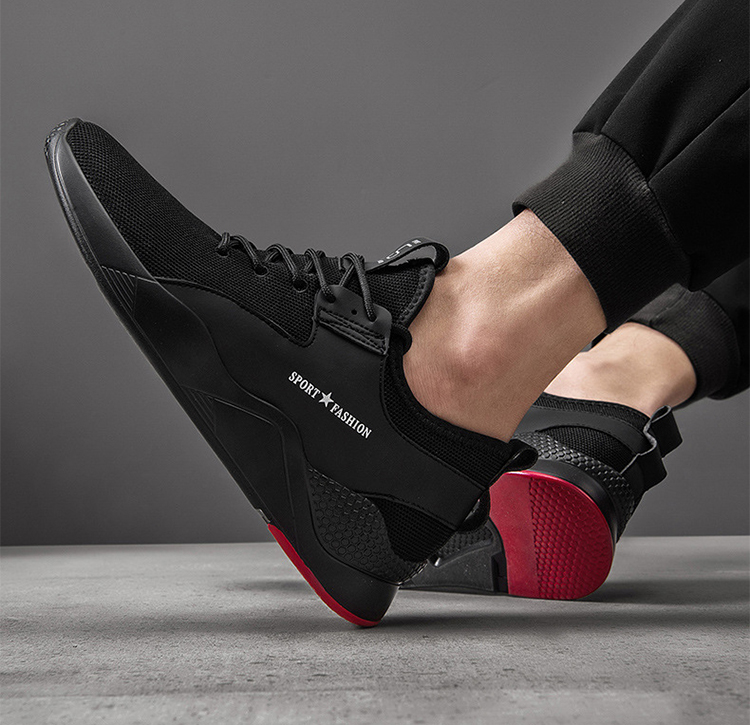 Running is one of the most popular ways to exercise, making these Breathable Mesh Running Height Increasing Shoes, available with 6 cm, another of our bestsellers. Like walking in elevator shoes, running in elevator shoes will take some getting used to. Still, plenty of runners use insoles to help them with their arch, their knees, and their feet, so adding a few centimeters of height is actually a relatively common trend.
Ideal for both short outdoor workouts and time on the treadmill, elevator shoes should likely be used in short doses for running. If you're considering running longer distances like marathons, it may still be best to consider shoes built for that repetitive impact. Still, this makes elevator running shoes a great choice for gym workouts and around-town jogs.
Lifting Weights In The Gym With Elevator Shoes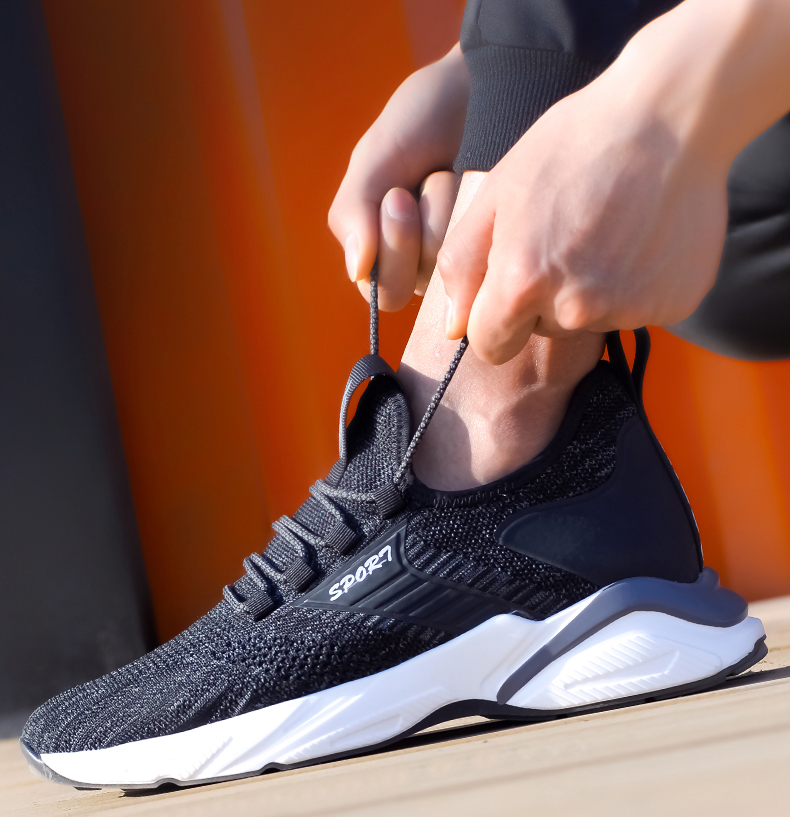 As noted above, one of the best ways to start feeling more confident is to build strength and to see the change in your body's tone, definition, and weight. Getting the confidence to get started at the gym is that much easier with these Elevator Sports Shoes, which are available with boosts of 6 cm or 8 cm.
Their non-slip, rubberized soles will give you plenty of traction for squats, deadlifts and leg presses, while still being light enough to hit the treadmill for a quick round of cardio.
Because weight lifting is generally stationary or with limited lateral movements, you should feel more comfortable with a taller boost.
Playing Soccer At The Park With Height-Increasing Shoes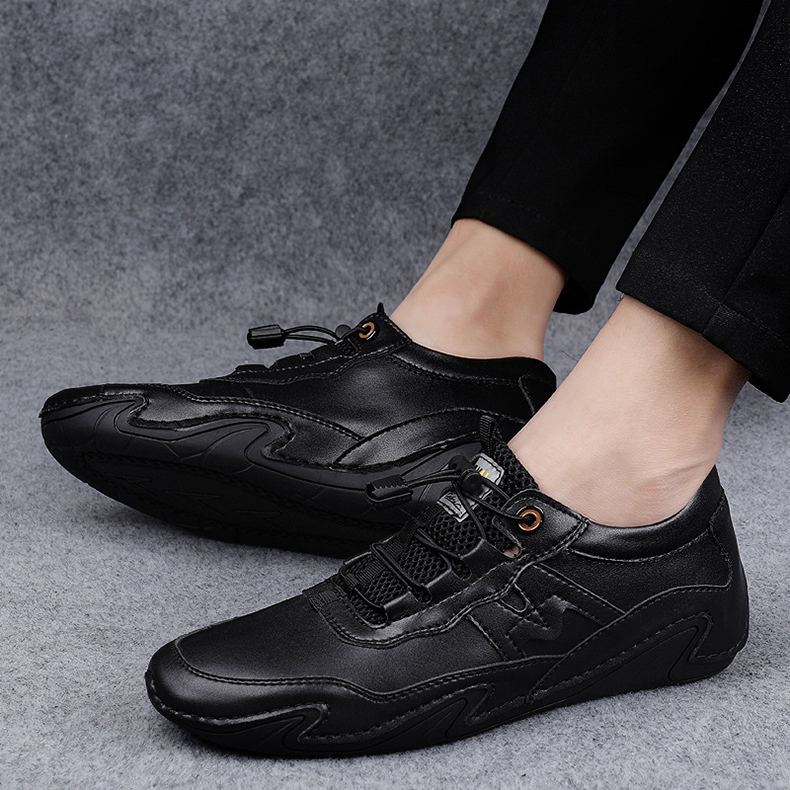 Oftentimes sports or athletic activities can start up in the middle of nowhere. Instead of waiting for a scheduled gym class, your friends might pull a soccer ball out of a bag and just start passing it around. Or a frisbee. Or paddle ball! For those spontaneous, spur-of-the-moment sports, these Soft Sole Running Shoes That Add Height, available with a 6 cm boost, are an ideal, versatile option.
These ones in particular have a nice side paneling which helps for making solid contact with the ball for direct passes or shots on goal (just make sure to tighten them then tuck the pull-tie away). Beyond that, they're on the lower end of the available height-increasing shoes, which will help should you play a game that has more side-to-side movements.
Workout Classes At The Gym With Elevator Shoes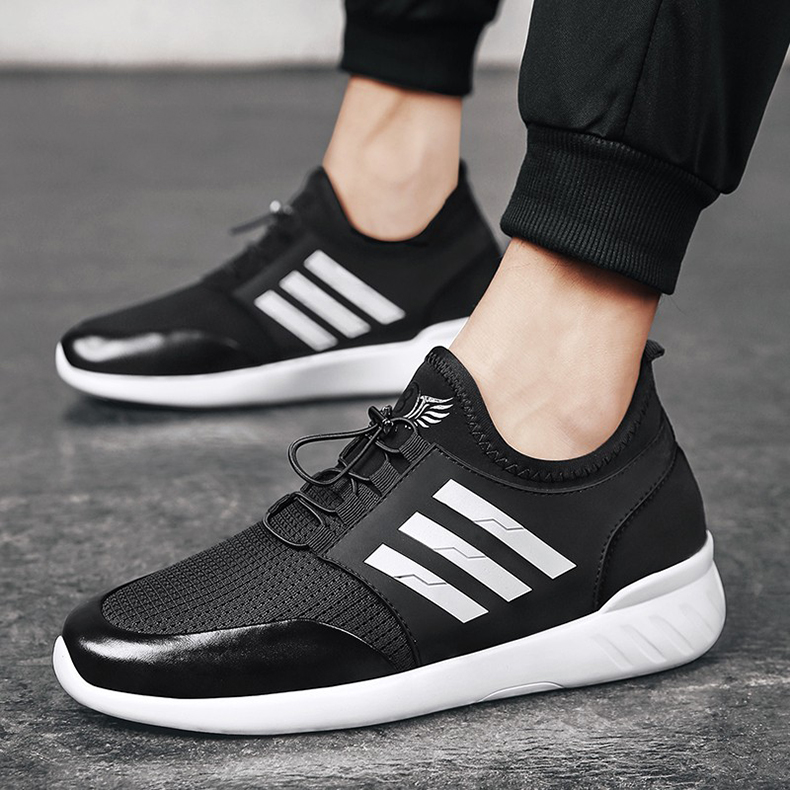 If you're a fan of workout classes, versatility and adaptability is the name of the game. One day you might be hitting up boxing, then another it's cycling, followed by pilates. With these Men's Leather Knit Trainers Height Increasing Shoes, available with 6 cm, 8 cm, or 10 cm of boost, you've found the pair that matches up with your personal favorite class.
Light and breathable with an easily adjustable set of laces, these can be worn loose for laidback classes and warm-ups, then made to fit more true-to-size when the activity picks up.
How To Get The Most Out Of Your Workouts With Elevator Shoes
Just like with regular shoes, getting the most out of your workouts with elevator shoes depends on the kinds of workouts you plan on doing.
With a bit of preparation and a look through the wide selection of athletic shoes available at Shoes That Make You Taller, you're sure to be on your way to building up your confidence and feeling your best.