Just how important is confidence when going for a job interview?
It could make the difference between you getting the job… and you going back home to keep sending out resumes.
For some of us, confidence comes naturally. We can walk into any room, feel comfortable, and make a good impression.
For others, confidence is more situational. Maybe we feel more confident after we know the people around us, be they employees or acquaintances. Maybe we feel more confident after we've shown what we can do. Or maybe we just prefer smaller, intimate settings.
And for still others, confidence can be tied to our physical appearance. What we wear, our fitness level, and even our height.
Some of those variables are ones we can control. If you don't like your wardrobe, you can go online and completely refresh it today. If you don't like how in shape you are, you can sign up for a gym membership.
However, if your height is holding you back, you've got to be more thoughtful.
But given how seriously confidence can affect your interview, it's worth considering your options. A survey of hiring managers and interviewers revealed some surprising statistics about the interview process:
33% of hiring managers said they knew within 90 seconds if they'd hire someone. Still think your confidence won't play a role?
50% of interviewers thought a candidate could be eliminated by how they walked in the door. That could be how they dress, or the confidence they show walking in through the door.
40% said an overall lack of confidence was a reason for not hiring a candidate.
If your height is holding you back from feeling confident, it's holding you back from achieving the professional success you deserve.
One solution you should be considering?
Dressing for meetings with elevator shoes.
Because whether it's a business meeting or an interview, looking the part and feeling your best is how you'll be sure to leave a positive, lasting impression.
What Styles Of Elevator Shoes To Choose For Business Meetings
In a sense, you can treat your interview at a company like your first business meeting. After all, you're meeting there, you're getting to know the team, you're making a presentation (that you happen to be the star of!), and, with any luck, you'll have more regular meetings afterward.
With that, let's discuss a few key takeaways for how to dress for meetings and how height-increasing elevator shoes will help you feel your most confident in them.
Get Business Dress Shoes That Match The Formality Of The Event
How many times have you heard the phrase Casual Friday? Or Business Casual? Maybe even Smart Casual?
We'll get into the kinds of shoes that work for each of these designations. The takeaway here is that it pays to do your research beforehand.
Part of feeling confident is projecting a sense of belonging. Knowing that you're prepared for the context of the event and that you'll look the part will help you set the right tone as you walk in.
You'll Need Different Colors Of Elevator Shoes For Different Outfits
We don't want to bore you too much with Fashion 101. Still, it's worth repeating a few tried-and-true outfit color combinations. By avoiding the rookie mistakes, you can focus on the most important part of any meeting or interview: being the best version of yourself.
To that end, consider having two pairs of business shoes. You'll need a black pair of elevator shoes to pair with your black suits. And you'll need a brown or gray pair to go with other suit or pant colors.
Another consideration as you're planning your outfits, especially if you won't be wearing a jacket, is finding complementary belts to match your shoes. If you've already got a black belt, you're basically set. Brown belts can be trickier with the many different tones and shades of leathers, so it might be worth looking into a few.
How To Wear Elevator Shoes In A Smart Casual Office Setting
One of the more recent developments in office style is the smart casual dress code.
According to Masterclass, smart casual attire is:
"Smart casual attire is a dress code that combines well-fitting, polished business wear with elements of casual attire—think blouses, polo shirts, button-downs, chinos, dress pants, dark-wash jeans, and polished, practical footwear."
For your smart casual office shoes, you can look into a number of options like loafers and oxfords, dress shoes, and boots. Opt for leather whenever you can and you'll be sure to up the dressiness of the look.
Because this is on the dressier end of the spectrum, you'll be looking to avoid athletic shoes or overly casual sneakers. This refined style also doesn't pair well with scuffs, so give your shoes a once-over before heading into work.
Smart Casual Elevator Dress Shoes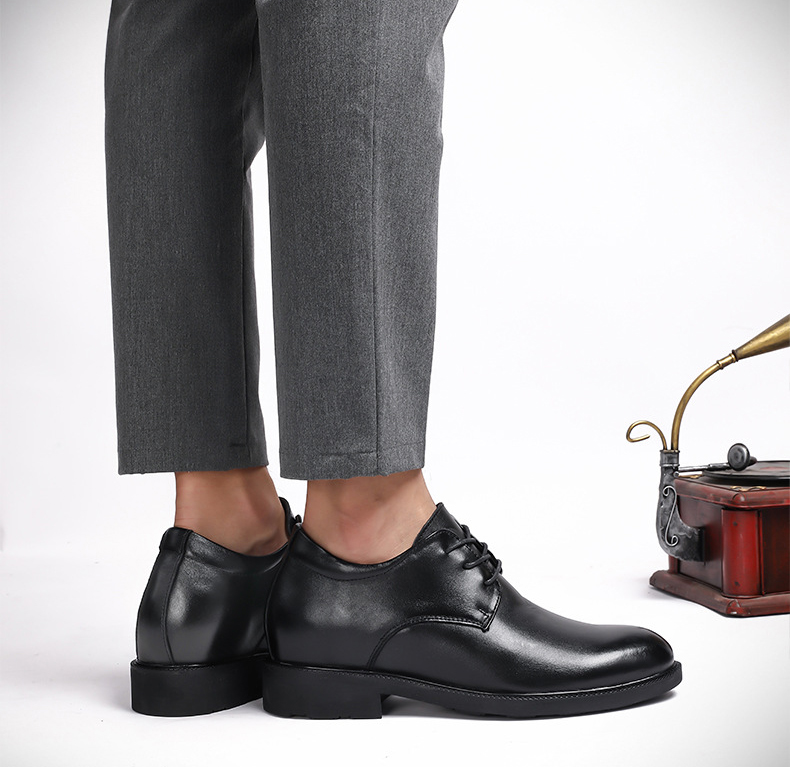 For a no-fuss option that'll work with your wardrobe, these Men's Dress Shoes That Add Height are a great pair.
Available with either 6 cm or 8 cm of lift, they'll help you feel more comfortable in any business setting, whether it's the pressure of that first interview or the tension of a high-value pitch meeting.
Smart Casual Elevator Boots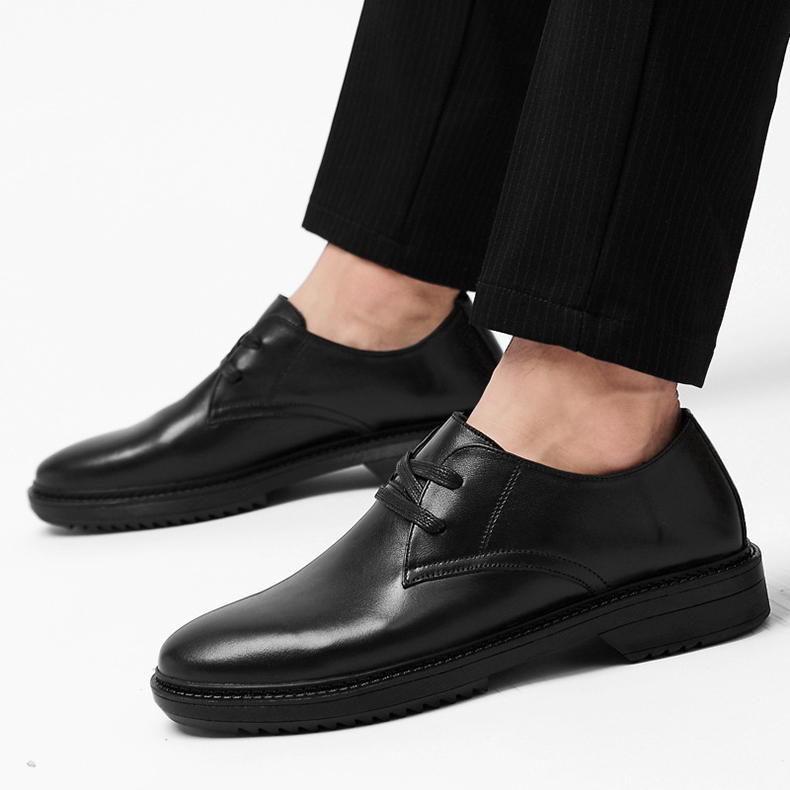 Especially for those guys who are looking for some styling variety, elevator boots are a great way to embrace the smart casual office attire.
Take these Men's Black Chukka Elevator Boots. With a 6 cm or 8 cm elevator insole built-in, you'll get to stand taller and see eye-to-eye better with your coworkers while having an outfit that's second-to-none.
Smart Casual Elevator Oxfords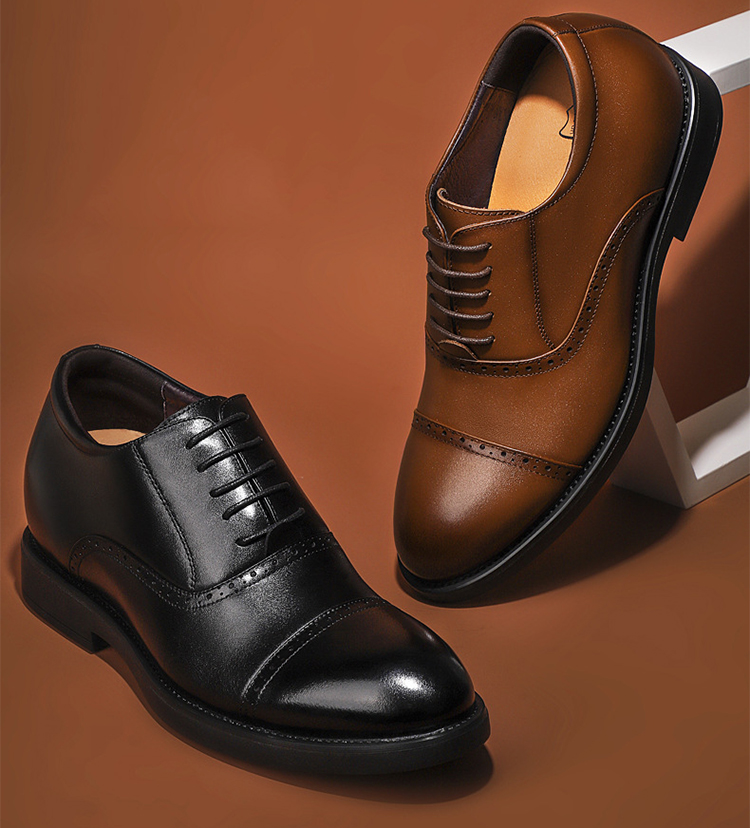 Available in Black and Brown with a 7 cm lift, these Cap Toe Oxford Elevator Shoes provide a classic style that you'll find works in a number of professional settings. With a pair in each color, you'd also be set with any of the suits and pants already hanging in your wardrobe.
How To Wear Elevator Shoes In A Business Casual Office
More and more offices are making business casual the norm. But just how can we define this hybrid style?

Business Insider says business casual dress typically includes:
"… slacks or khakis, dress shirt or blouse, open-collar or polo shirt, optional tie or seasonal sport coat, a dress or skirt at knee-length or below, a tailored blazer, knit shirt or sweater, and loafers or dress shoes that cover all or most of the foot."
For the height-increasing shoes you might look to pair with these more laidback options, consider oxfords, boots, dress shoes, and even some polished sneakers.
Business Casual Elevator Oxfords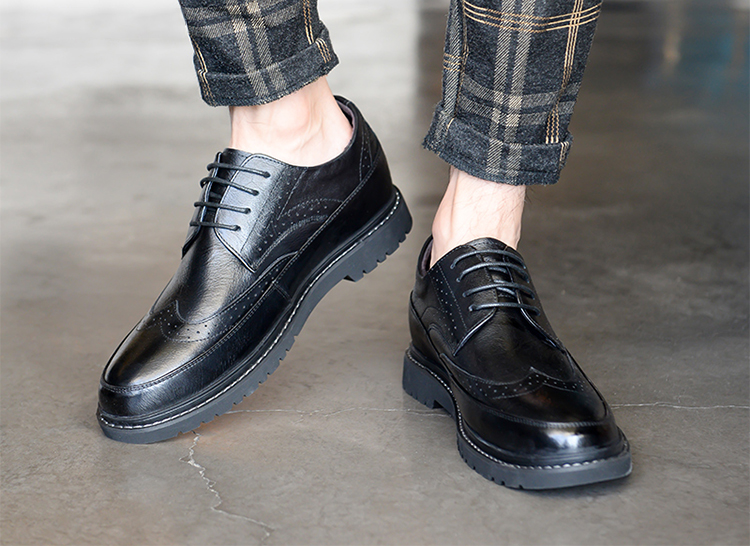 In the business casual setting, you should feel more comfortable with shoes that have more personality. Take these Men's Shoes With Height as an example. In addition to their 6 cm height boost, they have a classic perforated design which adds visual interest. Plus, you can style them with equally interesting pants and suits.
Business Casual Elevator Sneakers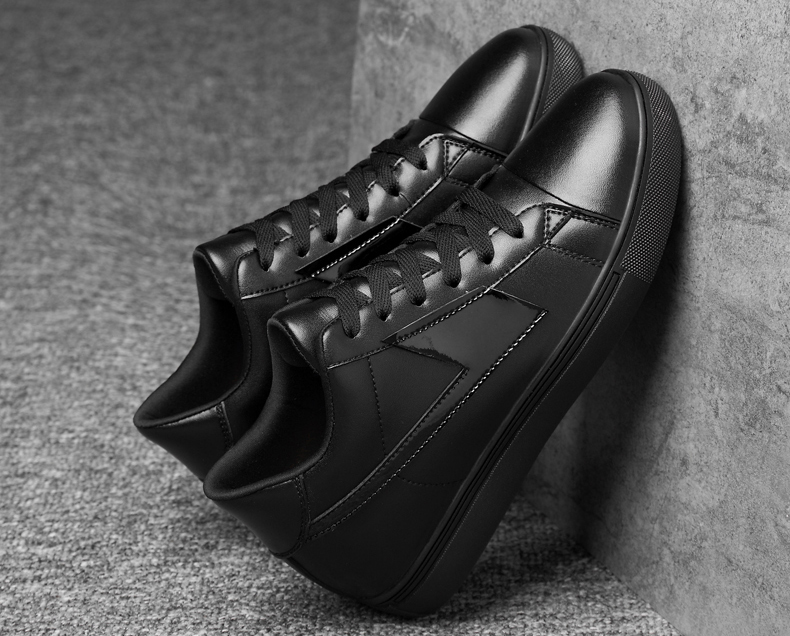 While it's true that not everyone can pull off sneakers in a business casual environment, we believe you can.
Consider these Men's Black Leather Elevator Sneakers. With a lift of 6 cm or 8 cm and a design that hides scuffs, you can project a laid back cool without sacrificing too much formality. And what says confidence more than that?
What Style of Elevator Shoes To Wear In A Business Professional Setting
For certain types of work, business professional attire is expected. Job search engine Glassdoor describes this more formal dress code as:
"Dressing professionally often refers to a type of dress code that's more formal than business casual or casual attire. This type of dress code is most often seen in traditional office settings like those in finance, accounting, and government organizations."

The nice thing about business professional dress is the certainty of it. It is unlikely you'd end up at an office to be surprised by business professional dress. Because it's more conservative, it's more closely associated with certain types of careers or institutions that have long-established customs.
The kinds of elevator shoes you might expect to wear in these environments include oxfords and dress shoes.
Business Professional Elevator Shoes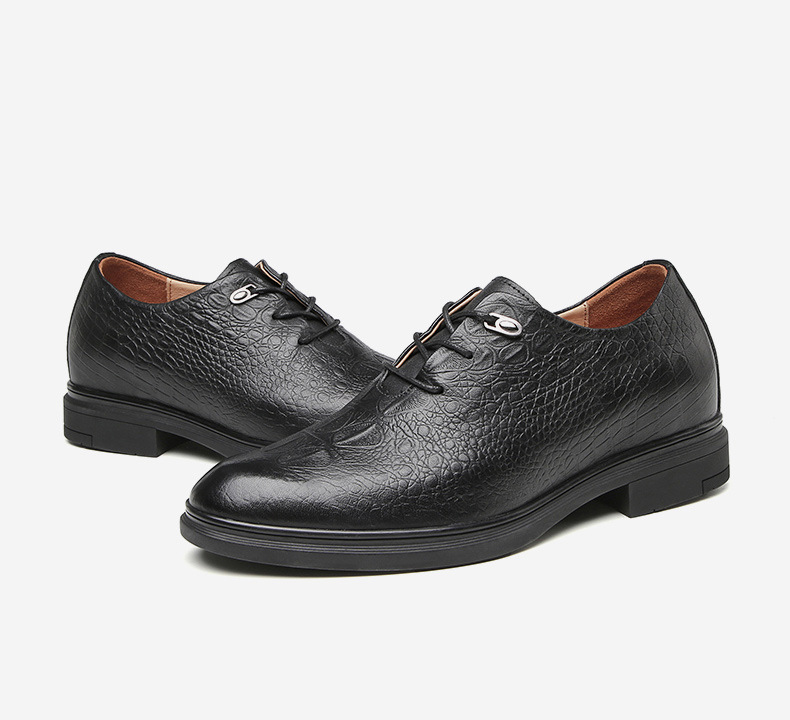 As an example of what kinds of elevator shoes to wear in a business professional setting, these Men's Dress Shoes With Height provide personality and formality. Available in Black and Gray and with a 6 cm lift, they have just enough character in the leather upper to be an interesting addition to the more formal kinds of suits you'll likely be pairing them with.
What Kinds Of Elevator Shoes To Wear To A Business Formal Event
Reserved often for evening events, awards ceremonies, or benefit events, business formal is likely the most restrictive style of dress you'll encounter.
The London Image Institute describes business formal style as:
"… a crisp dress code, literally: pressed, neat, and never wrinkled. The appearance is mostly for those who work in strict office environments, as well as formal settings like special dinners, award ceremonies, and other important events"
For this type of style, look for height-increasing oxfords and loafers with clear lines to help complete your outfit.
Business Formal Elevator Shoes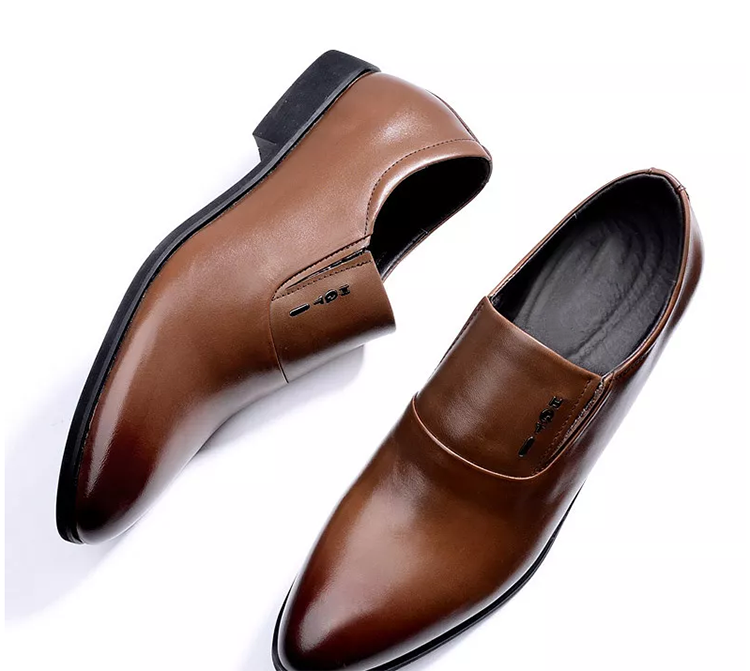 When you're looking for clean lines and shoes that will also give you a boost, these Formal Elevator Shoes could do the trick. Available in Brown and Black with a 6 cm boost, they'll ensure you feel confident even in the most formal of settings.
How To Determine Office Dress Code For Your Interview
The above list works well when you're getting ready for your business meetings or presentations.
But what about when you're going for your first interview?
Determining the kind of office dress code will help you make the important final decisions about the details of your outfit.
If the style of dress wasn't discussed in the initial outreach to schedule your interview, don't worry. You still have other options.
For one, you can research the office dress code. How the company presents itself online can give you an idea of what it's like in-person. With that, check the company website and the company's social media pages. Perhaps there is a recent YouTube video with highlights from the company's past year or documenting an event.
While that may work for some companies, not every company feels the need to share what their staff does so openly.
If it's the case that you're running into dead ends with your research, you should feel comfortable calling the Human Resources Department and explaining your situation. After all, they want you to succeed. They could very well be working with you in the future, so it's in their best interest to provide you with an actionable answer.
Where To Get Elevator Shoes For Business Meetings And Interviews
Once you've narrowed down the type of dress code at your prospective company or for your next big business meeting, you'll want to get the shoes to fit.
The wide selection of height-increasing shoes available at Shoes That Make You Taller is a great place to start.
From Brogue Elevator Shoes to Two Tone Derby Shoes That Add Height, and elevator insoles that range from 6 cm to 10 cm in lift, you'll find just what you need to look and feel great at your next big meeting.