No matter how you think about elevator shoes, there is no denying that they are becoming more prevalent.
From celebrities using lifts to stand taller at photoshoots to men wearing elevator shoes to the office to feel more confident, this style of height-increasing footwear has a permanent place in our culture.
It's helping shorter than average men feel more comfortable as they go about their lives. It's giving average guys a way to get a boost of confidence.
If you're considering getting a pair (or pairs) of elevator shoes for yourself, know that you'll be in good company.
But before you go swiping your card for the first pair of well-designed height-increasing shoes you see, we spoke with the experts at Shoes That Make You Taller to find out just what prospective buyers need to know before buying their first pair of elevator shoes.
What follows are 8 tips that will help ensure your first buying process goes smoothly.
1. Your Goals For Choosing Elevator Shoes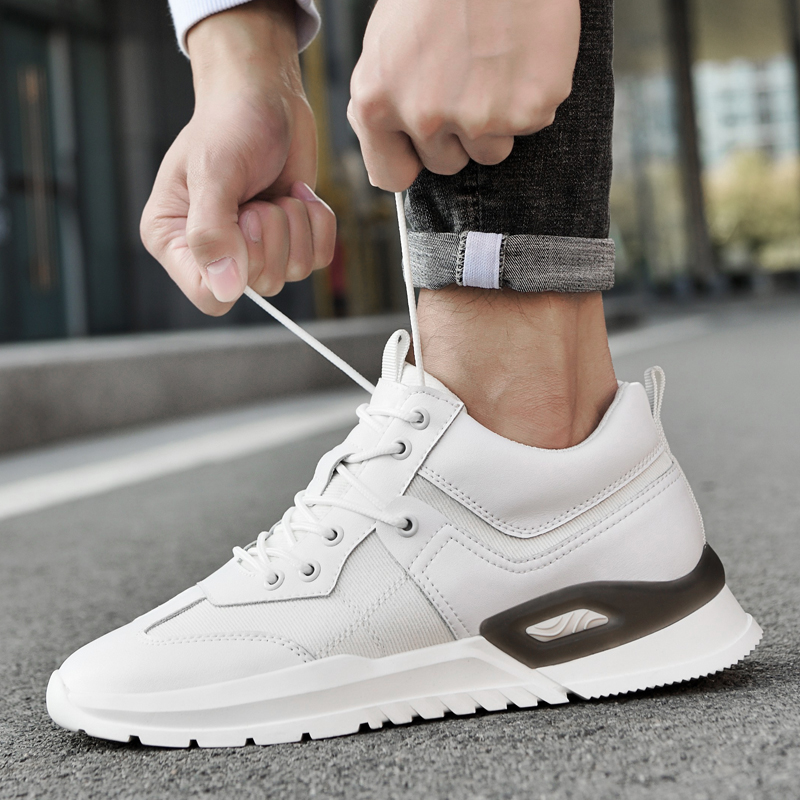 Have you thought about why you'd like to buy elevator shoes?
Presumably, because you'd like to be taller. But why would you like to be taller?
How you answer will help inform your buying process. You'll have a better idea of what height you should be looking for, what styles you should consider, and the scenarios you imagine yourself wearing them in.
Because if all you wanted was just to be taller, you'd go for the biggest lift possible. But if that happens to be a pair of work boots and you work as a doctor or dentist, you'll lose any hope of subtlety as your large shoes clash with your scrubs.
Is your goal primarily to feel more confident at work? Then you can structure your hunt for elevator shoes around more formal styles, like loafers or Oxfords.
Is your goal with elevator shoes to boost your self-esteem while dating? Then you might look more for stylish sneakers that class up your casual outfits.
The key here is to set your intentions for elevator shoes before you make your final choice, as this will help you end up happier.
2. How Long You'd Like To Wear Elevator Shoes For During The Day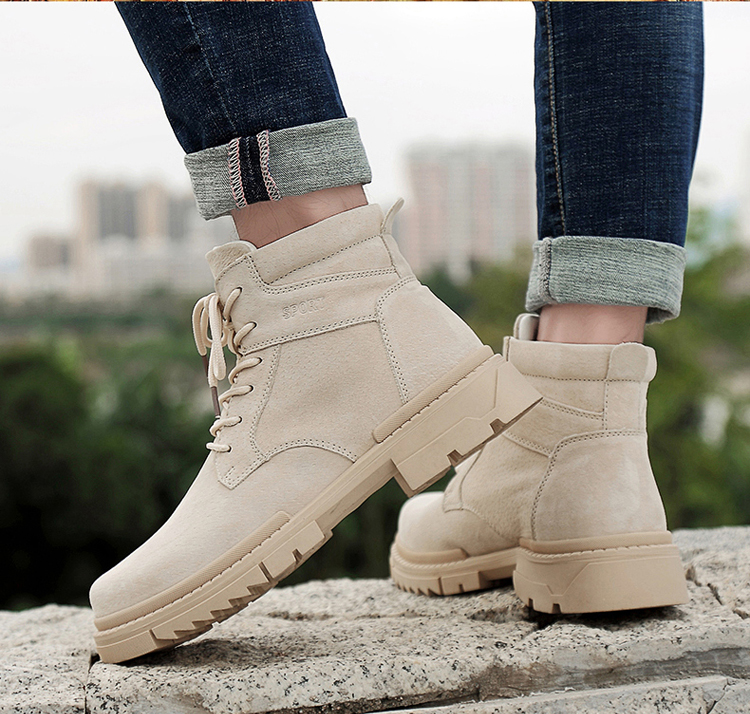 In addition to the style and purpose that you're buying the elevator shoes for, you'll want to consider when during the day you're wearing them and for how long each day.
As you would consider with regular shoes, wearability is a big factor for elevator shoes. Though you can trust experienced manufacturers to make high-quality shoes, the height-increasing boost will factor in, too.
With each pair of elevator shoes, we advise you to take a period at home breaking them in. This involves walking slowly, heel to toe, to get a feel for the insole and the build of the shoe.
If you're on your feet all day without breaks, you may want to start with a lower level lift, like 6 cm. After you've adjusted, you can consider adding in more lift.
If you work mostly at your desk with an occasional meeting or presentation, you might feel better about going right away to an 8 cm or 10 cm lift. The rest sitting down will give your legs a chance to recuperate.
3. How To Determine A Trusted Elevator Shoe Brand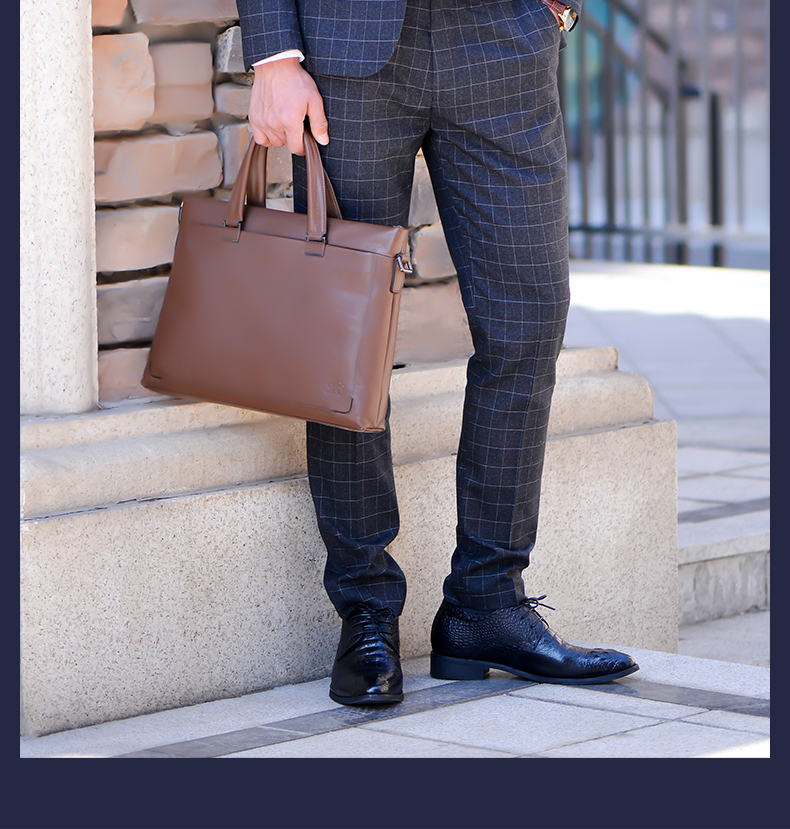 Before you buy anything online, you should do a little bit of research to make sure the source is legitimate. Elevator shoes are no different.
Elevator shoes are a specific type of shoe and you'll want to have assurance that you're able to make returns if you need to change styles or sizes.
A good source will also have a way of contacting them for further information. This should minimally include a way of emailing or having a contact form, but some go further and also offer phone support, too.
Finally, take a look at how each product is promoted and the care that is put forth. You can see in this example of Crocodile Elevator Shoes the following:
A description of the shoe's qualities and materials
Product photos of just the shoe
Example outfits built around the shoe
Videos of the shoe in action
Though it's not necessary that every single shoe in a site have this treatment, this level of quality shows the company is invested in each of their products and will have the same investment in their relationships with their customers.
4. Making Sure Your Elevator Shoes Use Quality Materials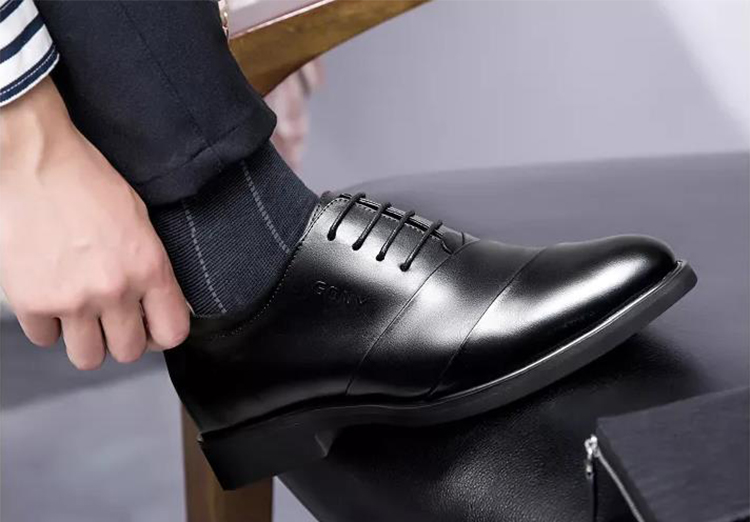 Some brands of elevator shoes have been known to use less-than-premium materials to cash in on a popular trend or to offer fast fashion designs that won't stand up to multiple wears.
That's why it's essential that you confirm the materials that are being used in your height-increasing shoes.
Whether you're getting a pair of athletic shoes to go to the gym that are made of breathable knit mesh or you need a more elegant pair for business formal meetings, make sure to read through the product description and specifications.
With the High Heel Formal Shoes For Men pictured above, you can see the shine and polish from a fine leather material. In addition, they have a breathable pigskin lining and durable rubber soles.
Seeing the list of materials being used in your elevator shoes will help you make the right decision.
5. Whether The Height-Increasing Boost Is On The Inside Or Outside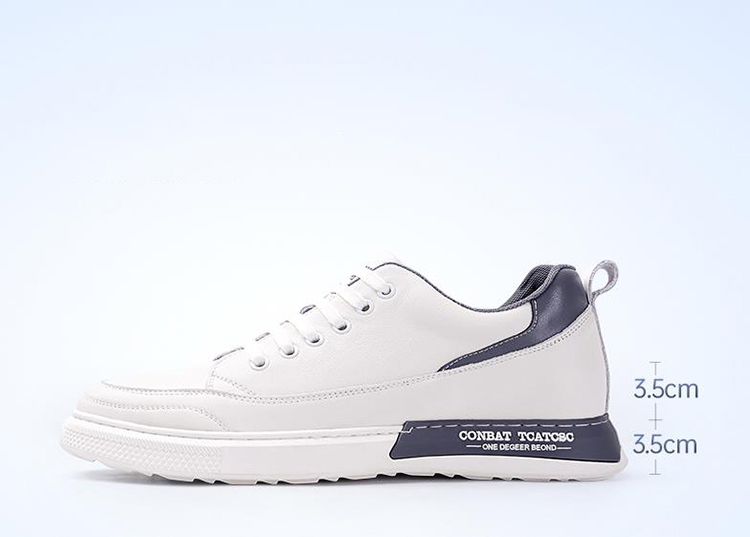 When you're considering elevator shoes, you're probably wondering just how visual the height-boosting lift will be. Rest assured that the designs of today are significantly more subtle than the ones in the past, giving you more control over both your height and your appearance.
Still, there may be some noticeable visible elements, especially for shoes that provide boosts over 6 cm, and for both sneakers and boots. Included in this section are two examples of how the height boost can be added in different styles.
Above, we have a pair of sneakers that splits a 7 cm boost between the outsole and the built-in elevator insole. This gives you more lift than an average elevator shoe while also being easier to walk in, since the main adjustment for you as the wearer is the slight incline of the 3.5 cm insole.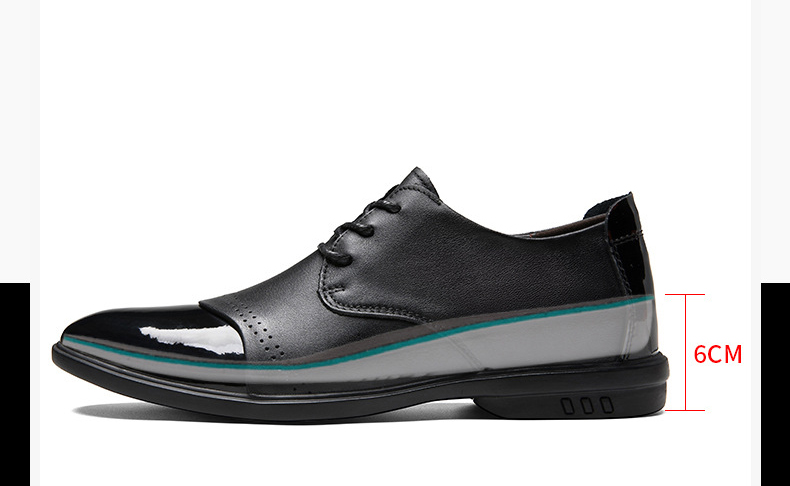 Another style to consider are these Two Tone Derby Shoes That Add Height. Though they also have a small rubber heel that won't look out of place with the other formal shoes in your wardrobe, proportionately more of the insole is included inside the shoe. This ultimately means that more of your height boost will be hidden from plain view.
6. The Benefits And Disadvantages Of Temporary Insoles vs. Built-In Insoles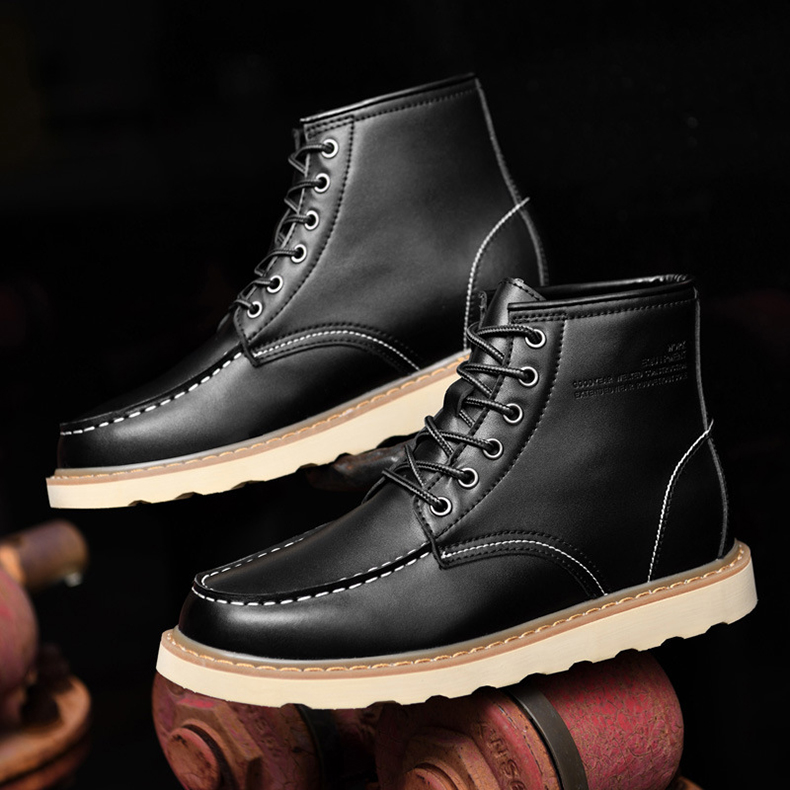 When you're thinking about committing to elevator shoes, you know that you'll be getting a certain height boost each time you wear them.
Some people still argue that it makes more sense to have temporary insoles that you can slide into each of the shoes you already own.
While the benefits of temporary insoles can be seen in their flexibility and their price (after all, you may only need one pair that you can use between all of your shoes), the disadvantages may be less obvious. With shoes that aren't designed with these insoles in mind, they can end up less comfortable. With insoles that aren't custom-built for each shoe, they won't fit inside quite as well, meaning your feet could slip around, leading to discomfort, blisters, or even falls.
The benefits of built-in elevator insoles is that they are made with each shoe in mind, providing stability and comfort. Whereas shoe lifts provide a platform for your heel, they end up transferring more weight onto the front of your foot. The combination of raised flat soles and built-in insoles help to combat this feeling.
Though they may cost more as you are buying new pairs of shoes, that same stability and comfort will leave you feeling more confident – and who can put a price on that?
7. The Walkability You Can Expect Wearing Elevator Shoes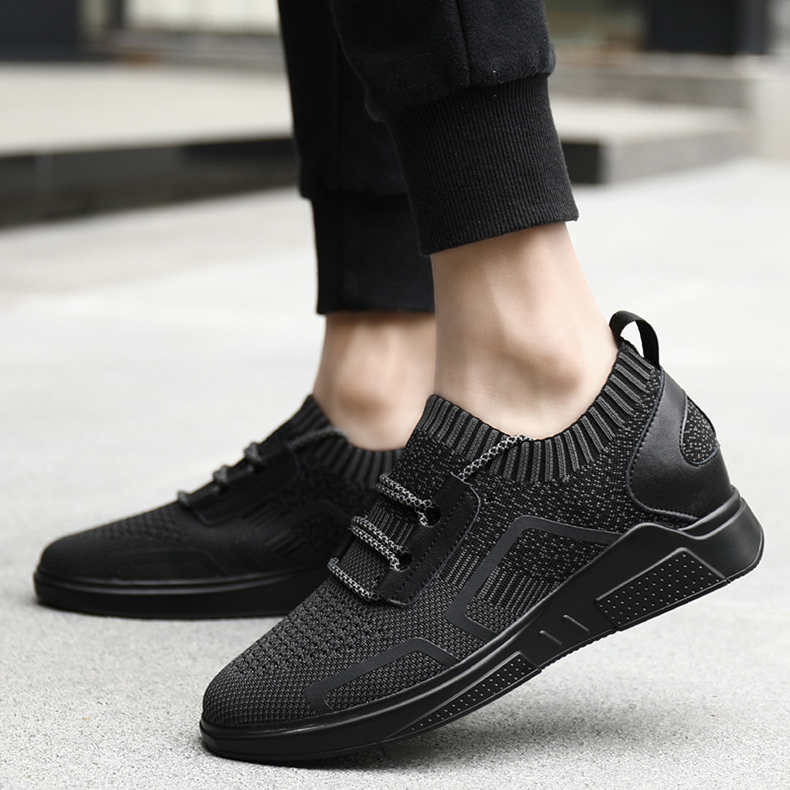 With a bit of planning, you can ensure that your elevator shoes are among the most comfortable shoes in your closet. If walkability is your goal, considering shoes like these Men's Knit Height Increasing Sneakers with mesh uppers will provide a comfortable breathability.
Assuming right away, however, that height-increasing sneakers will be the same as your other shoes is not advisable. Even with the more flexible shoes with lower height boosts, you'll want to get used to wearing them.
Higher boosts in more formal shoes will take even more time.
So the best advice for considering how walkable elevator shoes are is to keep reasonable expectations. There's no reason you can't wear them all day or get exercise in, so long as you take the necessary steps to get to that point.
8. Pay Attention To The Height Increase Of Your New Elevator Shoes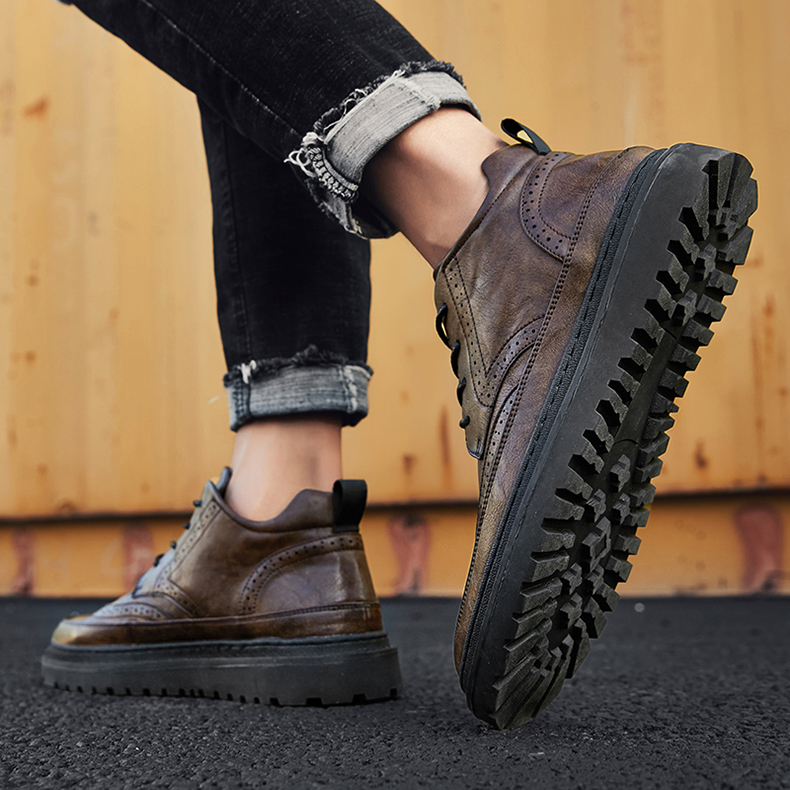 When thinking about what you need to know before buying elevator shoes, have a height in mind. There are plenty of attractively designed shoes available for exercise, for formal settings, for evenings, and more.
If you can filter by how tall you'd like to ideally be, this will make your shoe-buying experience easier.
And for first-time buyers, it's advisable to start on the lower end. As you get used to various styles and heights, then you can increase from there.
Where To Go Buy Your Next Pair Of Elevator Shoes
Now that you know just what you need to have in mind before buying your next pair of elevator shoes, you're ready to start feeling more confident.
For a retailer that has a wide selection of height-increasing shoes, check out Shoes That Make You Taller.