Autumn is now in full swing, which means we're well on our way to the prime gift-giving time of the year.
With Black Friday deals dominating physical stores all over countries like the US and Cyber Monday sales sparking up tempting ideas all over the internet just a few days later, the build-up to Christmas is going to be intense.
If you're looking to surprise the guy in your life with a gift, this is the time to start thinking about what it could be.
Of course, it depends on the seriousness of your relationship. If it's someone you're just starting to get to know, you may consider a simpler idea, like an experience the two of you could share – maybe tickets to a movie or a night out on the town.
If you know him a bit better, say as a partner or a family member, you'll have more to work off of.
For the guys in your life that are on the shorter side, you may feel comfortable enough to offer getting him elevator shoes.
But how do you know he'll be open to these kinds of height-increasing footwear?
Should The Elevator Shoes Come As A Surprise?
Yes and no.
First, we'll start with the no argument.
Like a pet on Christmas Day, elevator shoes as a complete surprise aren't necessarily going to go over well. Why not?

He may already feel insecure about his height, so by suggesting that he do something about it, you are only adding onto his fears.
If he hasn't seen what elevator shoes look like, he might have ideas on the kinds of styles of shoes he'd prefer
Guessing what size of built-in insole he wants might leave him feeling awkward. If you guess too little, the shoes might not have the effect he was hoping for. If you guess too high, he might feel like they're too obvious.
He might not have the patience to adjust how he walks. Though it doesn't take too long to get used to the movement of walking in elevator shoes, someone who's completely new to them might not understand that.
He likely has a certain color of shoes that he'd go for, and so without being able to have a say in the matter, he might ignore them purely based on the aesthetics.
The takeaway here is that elevator shoes shouldn't come as a complete surprise. Ideally, he's mentioned being open to wearing height-increasing shoes before. Maybe you've looked through some sites like Shoes That Make You Taller together. Maybe he's looked for clothes or styles that help him appear taller.
Or maybe he's simply commented on wishing he could be taller.
With one or more of those elements in mind, you can trust that he's open to the idea of elevator shoes. At that point, you can feel more comfortable about the surprise element.
Still, there are a few things to keep in mind about pulling off this surprise.
Do you want to surprise him completely with elevator shoes?
Do you want to surprise him with just the style of the shoes?
Do you want to surprise him with the shoes he wants?
Keep in mind that even a gift the recipient has picked out can still be a surprise. It just depends on the timing, the presentation, and the delivery.
Overall, it's better that they appreciate their gift than that it's a complete surprise, so we'd encourage talking about elevator shoes beforehand to be absolutely sure.
How To Find Out The Actual Height He Wants For His Elevator Shoes
There are a few ways you can find out the right height for his elevator shoes gift.
The simplest way?
Just come out and ask him.
If you could be any height, how tall would you be?
Is there a height you'd feel more comfortable at?
Or, what size elevator shoes would you consider?
Beyond that, you may have to do some detective work.
Where to start? Using a site like Shoes That Make You Taller as a guideline, the shoes are primarily available in three sizes of height boosts:
6 cm (2.36")
8 cm (3.14")
10 cm (3.94")
Keeping his height in mind, how much taller would each of these boosts make him? Is it enough to bring him from below-average height to average? Would it take him from average height to well above?
You can also think proportionally. If the guy in your life is already fairly tall, a significant boost might not seem as extreme. A shorter guy might like a bigger boost, but for his first pair of elevator shoes that might be a little too obvious for his liking.

While we're big fans of keeping the conversation direct to make sure that your guy gets the lift he's looking for, we understand that you might want to keep your gift underwraps.
Details To Keep In Mind When Buying Elevator Shoes As A Gift
With that in mind, we've put together a list of other details to be aware of while you shop for elevator shoes as a gift. Assuming you've already got his approval or interest, then the next step is to find a style of shoe that will fit in with his own personal style – and the rest of his wardrobe.
Below are four factors to keep in mind when thinking about elevator shoes, along with an example of each.
The Season
Though we may be heading into the winter holidays, think about when he's most likely to be wearing the shoes you're getting him.
The first thing you might think about is if you're looking to replace one of his existing shoes or if you're adding to his wardrobe.
If you want him to get the benefit of the height-lifting boost right away, you might consider a pair like these Men's Suede Lace Up Boots That Increase Height.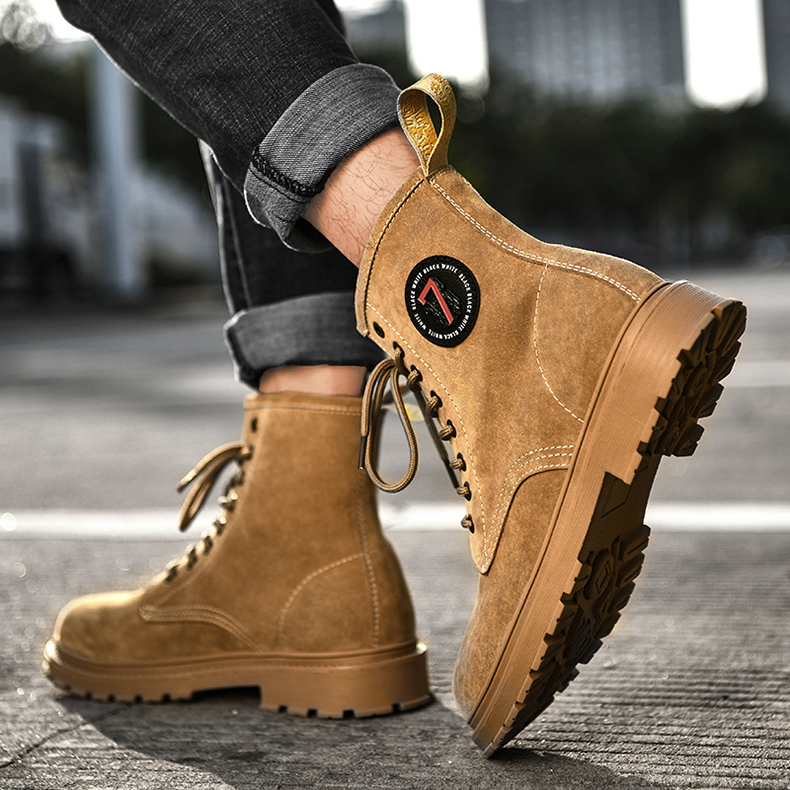 If you're looking ahead toward warmer weather and want to give him something to get excited about, these Horsebit Driving Loafers That Add Height offer a nice, relaxed vibe that allow him to show off some ankles.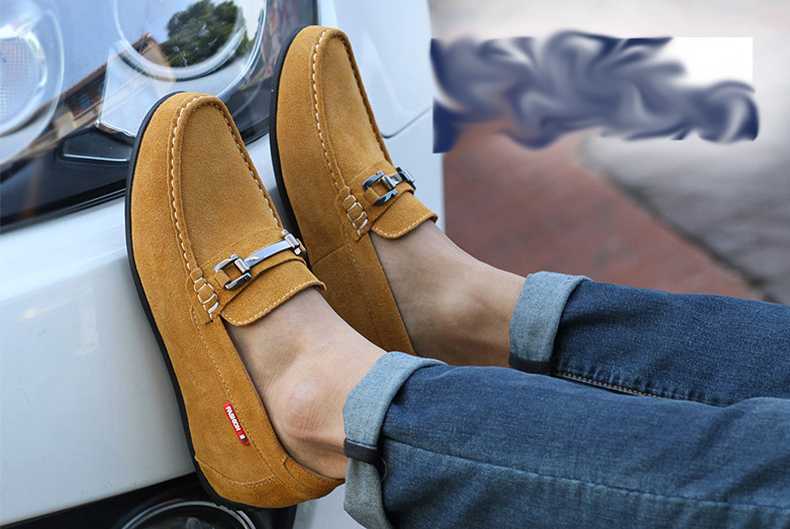 In the rainier spring months, you can look toward a comfortable style that keeps a steady grip, even in slippery situations. One that could work well for him is this Men's Elevator Sneaker With Elastic Buckle.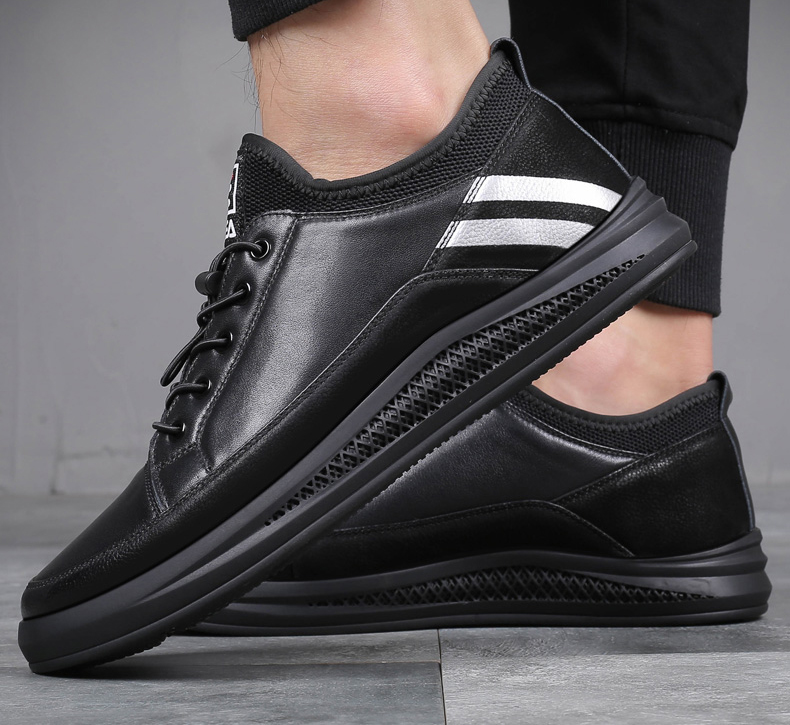 And though autumn may be a ways off, these Wingtip Derby Shoes That Make You Taller are a nice cool weather addition that he'll find plenty of opportunities to wear throughout the year.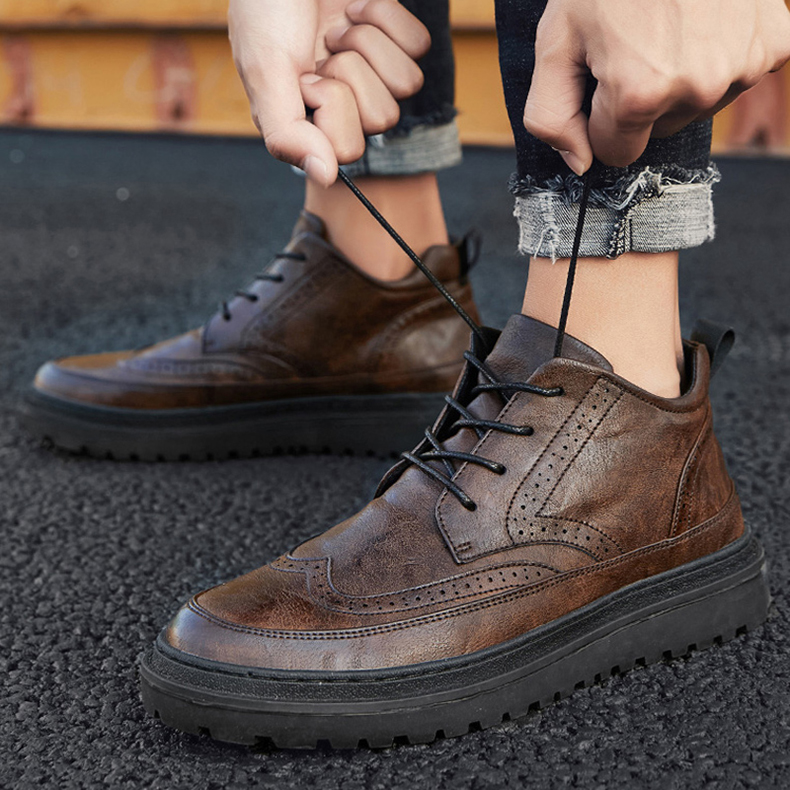 The Style
Modern elevator shoes are available in a range of popular styles, including elevator dress shoes, elevator sneakers, elevator boots, and elevator sport shoes. Just like a woman wouldn't consider wearing high-heeled shoes to the gym, there are times and places for different kinds of elevator shoes. This can reflect his personality, his hobbies, his profession, or a mix of all three.
With that, consider just how he might use each style in his daily life:
Elevator dress shoes – These are ideal for the office, for work outings, and for formal events like dates, weddings, or parties. With styles ranging from wingtip brogues and ostrich-embossed to cap toe and formal shoes, there are plenty to choose from.

Elevator sneakers – The perfect all-around shoe. Depending on your office's dress code, many of these work well with a business casual look. They're also great for around-town wear, going out at night and on the weekends, and for vacation. Their styles range from loafers and mesh knit sneakers to low tops and trainers.

Elevator boots – A great shoe for more physical labor, or for making a loud statement with your outfit. These all-weather shoes provide a sureness and grip, no matter the surface. Plus, they've got their own style, too, ranging from combat boots and low tops to chukkas and waterproof work boots.

Elevator sport shoes – For the active enthusiast, these shoes are great at the gym, on the trails, and in the mountains – or just for a sporty around-town look. These come in styles as varied as basketball shoes and knit trainers to tennis shoes and running shoes.
His Other Shoes
As mentioned above, there are a wide variety of height-increasing shoes available.
If you're taking it on yourself to pick out the style of his shoe for him, there are a few things that keeping in mind his already existing collection of shoes will do for you:

You already know his tastes. Given that there's an adjustment period when it comes to wearing elevator shoes, there's no reason to stray too far from what he already likes by adding another extra variable.

You know where he could use another pair. If he has two pairs of dress shoes, two pairs of sneakers, and two pairs of boots, but only one pair of athletic shoes, then you can supplement his wardrobe with the right pair of height-increasing shoes. To make sure that these shoes get into his rotation, think about where you'll be able to make the most impact.

You can see where he's willing to get creative. There are some beautifully designed elevator shoes, and while they might not be for everyone, if he can pull off his own style, then any number of these more modern designed sneakers could be right for him.
His Non-Footwear Wardrobe
Remember that the shoes are only a part of the entire outfit. Though we've spent a good deal of time today working on that just-right pair of shoes, it still has to fit with his overall look for him to want to wear them.
Here are a few things to consider:
Pants. How does he wear his pants? Are they slim-fit? Cut right above the ankle? Does he roll them up? Is there extra material? The style of the pant leg can play into the kind of shoe you're thinking about getting him. For example, having slim pants may make it harder to match with a new pair of work boots. Likewise, looser legs may not look quite right with finer dress shoes.
Workout gear. Similarly, what style of cut does he use for his workout pants? Does he mainly wear shorts? Joggers? Sweats? Some elevator shoes can be bulkier, so sweats can help him feel more confident while he gets his workout on. For guys that like to wear shorts, there are also elevator shoes with a slimmer profile.
Why Elevator Shoes Could Be The Ideal Gift For Him
Once you've established that he's open to elevator shoes, you know you're on the right track.
This is a great way to make him feel more comfortable with who he is. There are many daily opportunities that can be seized with the right attitude, whether it's being more eager to get to the gym or presenting a new idea at the office. With the right gear like elevator shoes, he'll feel more like himself.
Where To Buy Elevator Shoes As A Gift
Because buying gifts is always a little bit of a gamble – yes, even when they send you the direct link they're looking for – it's good to go with a trusted source like Shoes That Make You Taller with a reasonable return policy.
Plus, with hundreds of options of elevator shoes, you're sure to find a style that fits with what he wants. Look at the selection on Shoes That Make You Taller, then let us know if you have any questions.