When you're about to change your physical appearance, it makes sense to know how you'll look beforehand.
With clothes, you head to the dressing room to try them on before buying them.
With a new hairstyle, you can use photos and people you've seen as a reference.
But with elevator shoes, it can be hard to know exactly how the shoes will look in the real world.
And without that, it's tough to know how you'll feel while you wear them.
Fortunately, more and more height-increasing shoe retailers are expanding their selections and promoting them with better photos and videos, so it's easier than ever to make a good decision with your next purchase.
How Elevator Shoes Should Make You Feel
Before we can focus on how elevator shoes look, it's important to discuss how they'll make you feel. Because unlike other shoes, elevator shoes have a distinct function. They're designed to make you taller.
Now whether you want to be taller to feel more confident, to be more comfortable around your partner, or to fit in clothes better, the end result is the same: elevator shoes will help you achieve that look.
By feeling more like yourself, you'll feel better in the clothes you wear.
With that it's worth asking what it takes to pull off a nice pair of elevator shoes, along with a few other questions that often come up with elevator shoes, like if people notice you're wearing them, or if the height of the insoles is really obvious.
How Elevator Shoes Work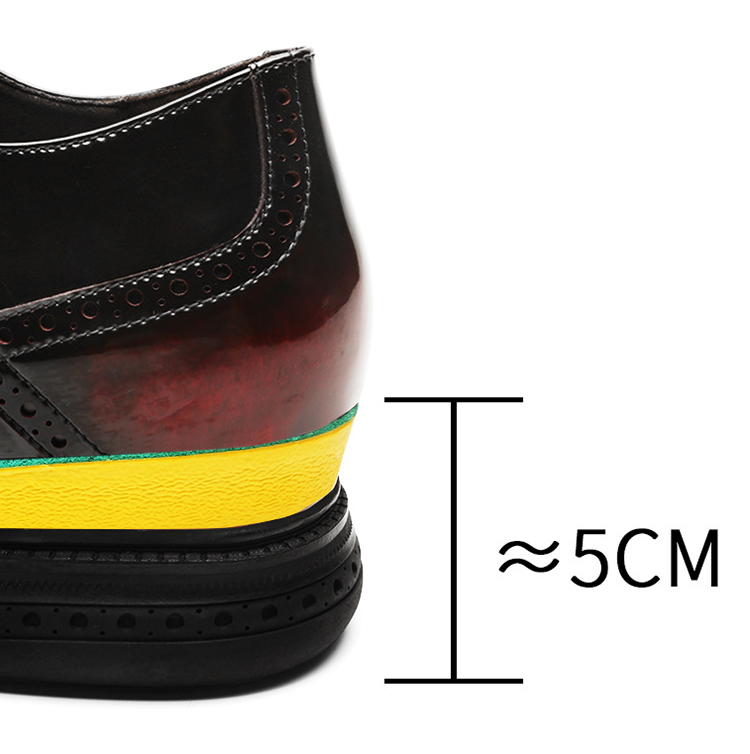 Unlike temporary height-increasing insoles or lifts, elevator shoes use built-in elevator insoles to discreetly raise your height.
Often that height ranges from 5 or 6 cm to about 10 cm. Most elevator shoes retailers offer their products not only in different shoe sizes, but in different shoe heights as well.
By being custom-fitted into each shoe, these lifts allow for a more natural form of walking. Though you may need a bit of time to get used to the lift, these kinds of shoes will offer you more stability from the beginning than a removable lift.
As you get used to wearing the shorter lifts, you can look to extend to 8 cm or even 10 cm. Different people have different height goals, so depending on your professional dress codes, your leisure activities, and your exercise of choice, your shoes may reflect that change.
Ten Examples Of Elevator Shoes In Real-World Situations
No matter how you look at it, elevator shoes were made to be worn outside and to help you live your life more confidently. We've gathered ten examples of elevator shoes from Shoes That Make You Taller to help take you beyond the product shot and into the real world.
To reflect the same organization of their site, these shoes will include a cross section of elevator dress shoes, elevator athletic shoes, elevator boots, and elevator sneakers.
Elevator Shoes For Men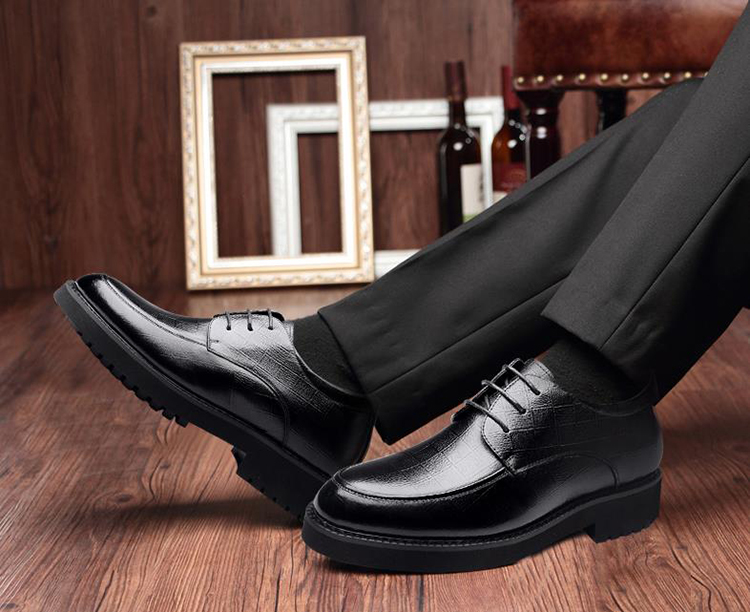 What's great about how these Elevator Shoes For Men are displayed is how easy it is to envision wearing them to a meeting or presentation.
Often one of the questions men have about elevator shoes is how they'll look in professional settings. Can you wear elevator shoes with a business formal dress code? Should you wear height-increasing shoes if it's just business casual?
What you can see in these well-styled photos is that with matching socks, shoes, and slacks, the whole outfit comes. together. Nothing in particular stands out about the shoe from a height-increasing perspective. It's well-made with a polished leather shine that's sure to invite compliments.
Leather Brogue Height-Increasing Shoes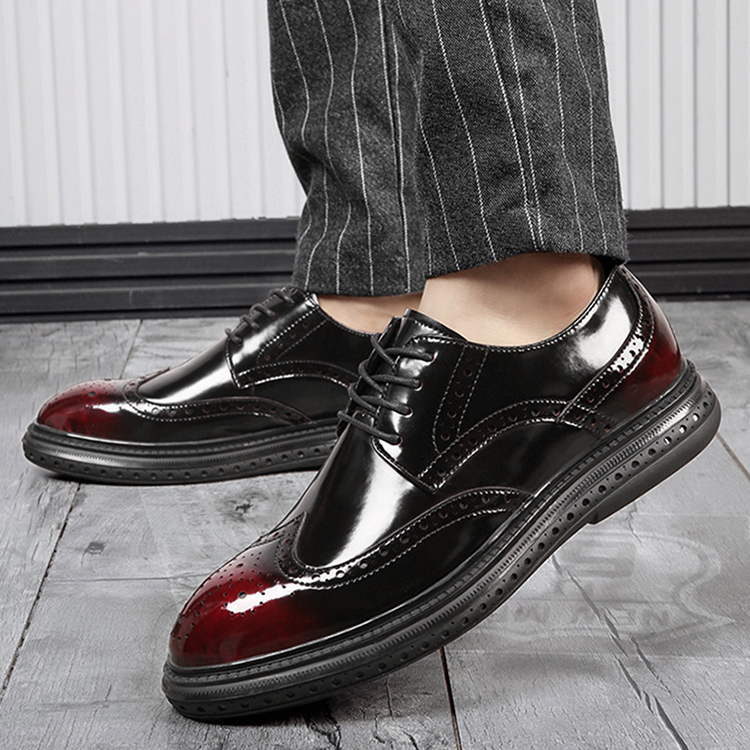 The lighting on these Leather Brogue Height-Increasing Shoes helps to point out a few features.
With shoes that come in various colors, studio lighting may not always be reflective of how they look in the real world. Here, you can see where the tints of color start and stop, where the light catches the nicely polished leather, and how the shoe is cut to come just under the model's ankle.
With that, you're able to see how it would fit into your wardrobe. If you prefer a look with tailored pants and you're comfortable with low-show or no-show socks, these photos suggest it could be a good pair for you.
High Heels Casual Shoes For Men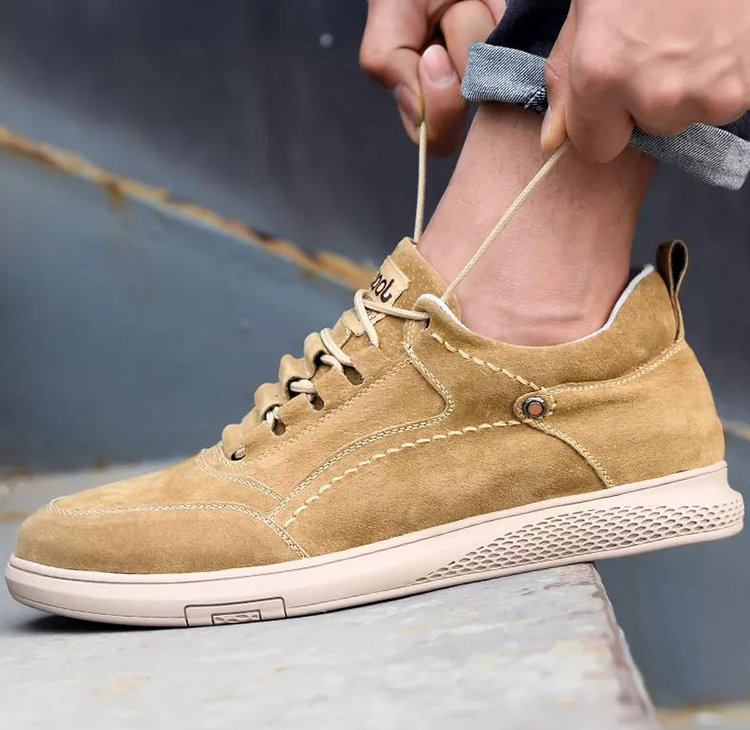 The all-natural shoe-tying setup for these High Heels Casual Shoes For Men illustrates just casually these shoes fit into the everyday world.
Naturally, men are concerned that if they buy height-increasing sneakers that everyone will know. That may have been true in the past with clunky, poorly designed versions, but that's not the case anymore.

As you can see – or rather, as you can't see! – the hidden insole provides the lift in a discreet way, without having any noticeable elements displayed externally.
This allows elevator shoes like sneakers and athletic shoes, though traditionally flatter and lower to the ground, to have a similar height-increasing lift to boots.
Men's Elevator Sneakers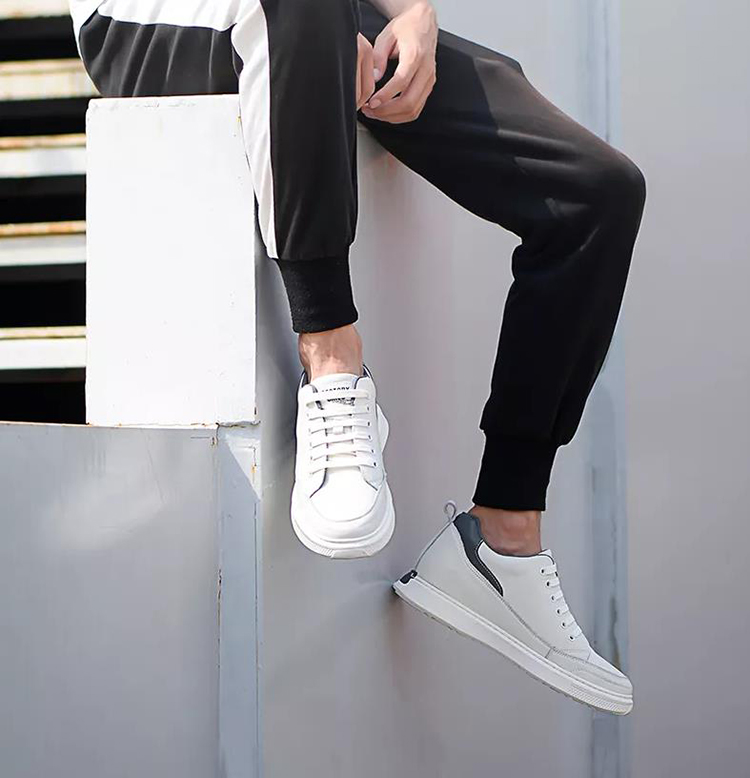 The easy-going nonchalance of the model used for these Men's Elevator Sneakers allows you to imagine how life will look with elevator shoes.
And if it looks like your life is now, well, that's the case!
The design of these types of shoes is intended to make it easy for them to slide right into your existing wardrobe – without the need to compensate by being other types of pants or to have to replace your other shoes.
Like this example with joggers, you'll be able to wear your sneakers around town without needing to worry about people knowing your secret.
Men's Leather Low Top Sneakers That Add Height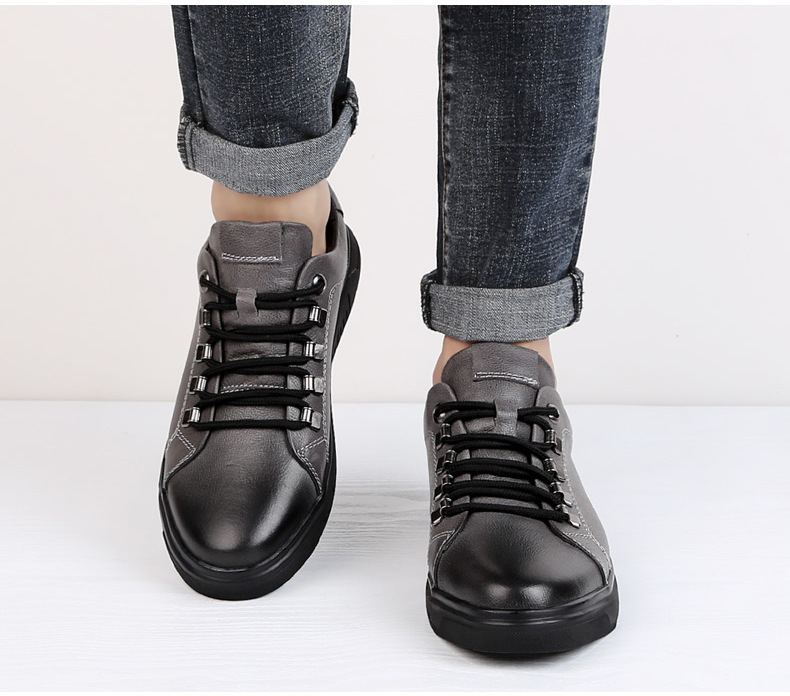 The front-facing perspective of these Men's Leather Low Top Sneakers That Add Height gives you a view that you can normally only see in stores.

One of the most common ways people see us on the street and in the office? When we're walking up to them! So it stands to reason that guys would want to know if there's anything particularly revealing about their elevator shoes from the front perspective.
As you can see here, the model has cuffed jeans and exposed ankles, so nothing is being hidden about how he's wearing the shoes.
Buying clothes online, and especially shoes, can be difficult without being able to physically handle the products. Having helpful shots like these, however, can help you get a better overall sense of what they'll look like when you're wearing them.
Elevator Combat Boots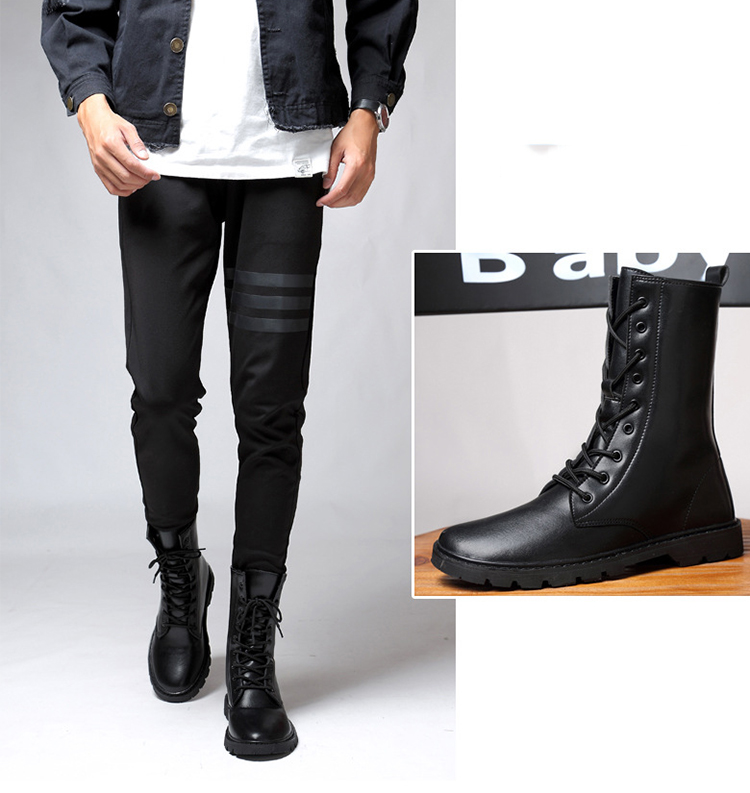 This photo allows you to see the styling options of boots like these Elevator Combat Boots, along with the stand-alone product shot.
Because some styles of shoes may seem different than what you're used to, there can be a temptation to just look right past them. If you wouldn't have worn them before you were considering elevator shoes, then maybe you're thinking it's not worth trying a new style.
In a gentle way, these photos provide a glimpse at how boots that can seem quite large on their own are actually a natural part of an outfit, and don't add anything unnecessary or exaggerated.
In that sense, these more natural photos help to see not only how the shoe looks while it's in use, but also how the shoe can be styled – which is nearly as important for the overall outfit you'll be wearing.
Men's Height Increasing Boots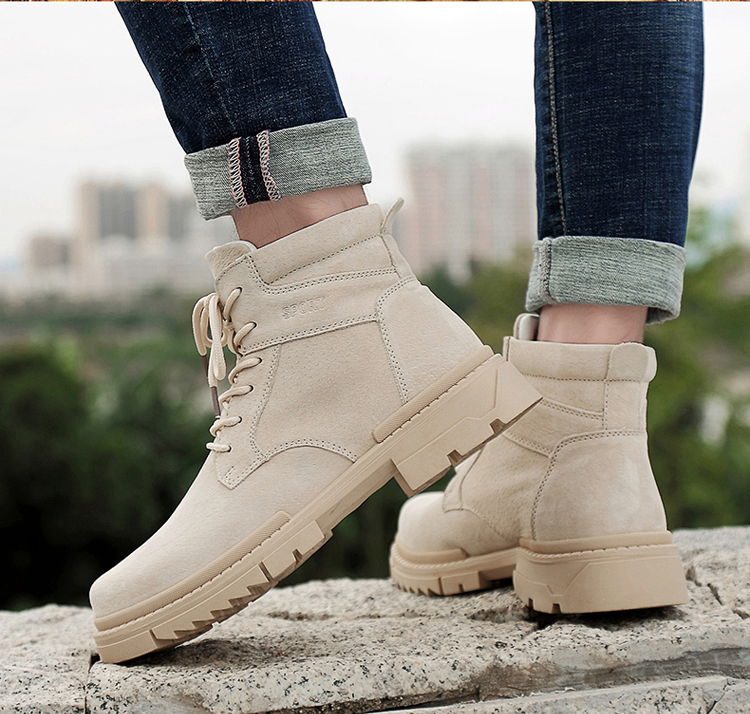 Natural lighting and cuffed jeans gives you a great idea of how these Men's Height Increasing Boots will look during the day.
In some settings, that ideal studio light gives you the best-case scenario for your shoes. But how often are we in that situation?
Unless you can pay someone to follow you around with your own modeling light, it's better to make sure your prospective clothes and shoes look good no matter what the lighting. To that end, finding product shots like the ones above done in daylight will take away any of the mystery about just how your elevator shoes will look while you're wearing them.
Men's Leather Lace-Up Elevator Boots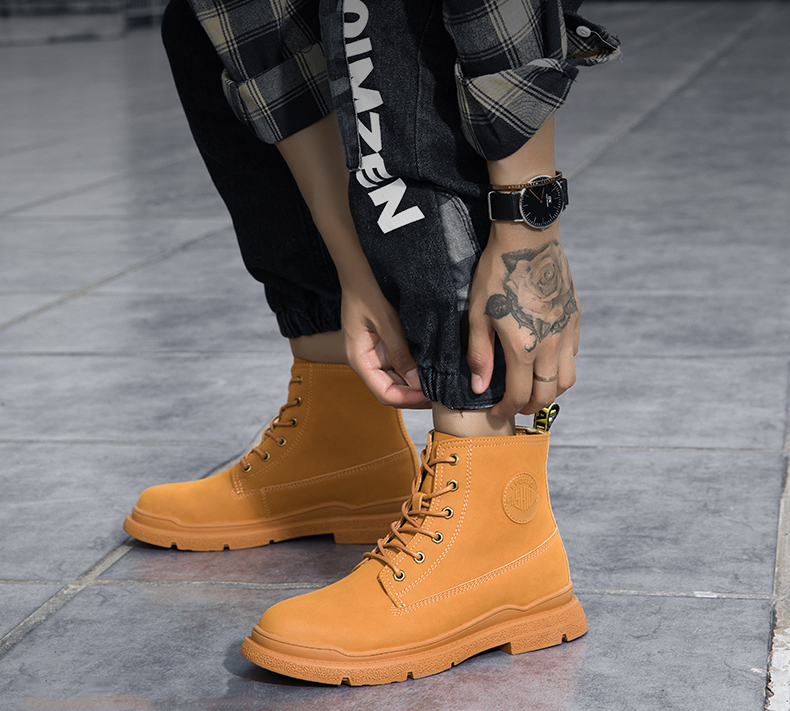 The streetwear styling of these Men's Leather Lace-Up Elevator Boots helps prospective buyers get a sense for modern outfits that can be put together with these kinds of shoes.
Additionally, these side profile angles also help to show how much an elevator boot blends in with any other boot. They have a similar sole, coloring, and design, so despite having an internal lift of between 6-10 cm, there are no noticeable differences on the outside.
This discreet lift ensures that these kinds of shoes can be worn and styled just as you would wear and style the rest of the shoes in your wardrobe.
Mesh Knit Running Shoes That Add Height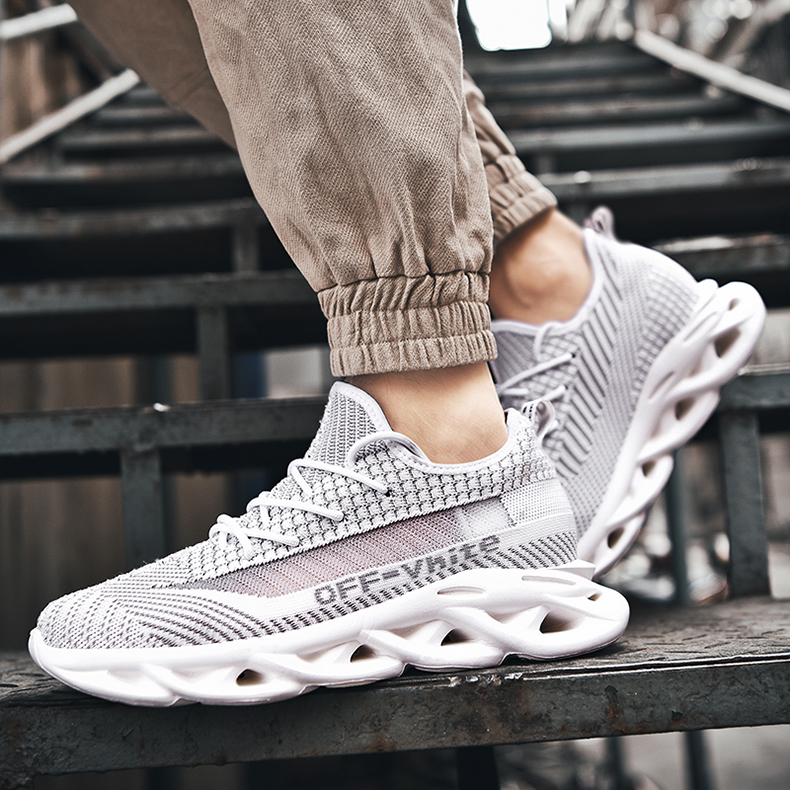 The styling and street scene make it clear that these Mesh Knit Running Shoes That Add Height are made for wearing around town.
It can be tempting to think that modern-inspired shoes like these will look just like the real thing. With photos like these, it's easier to believe it for yourself.
Yeezy Tennis Shoes Height Increasing Shoes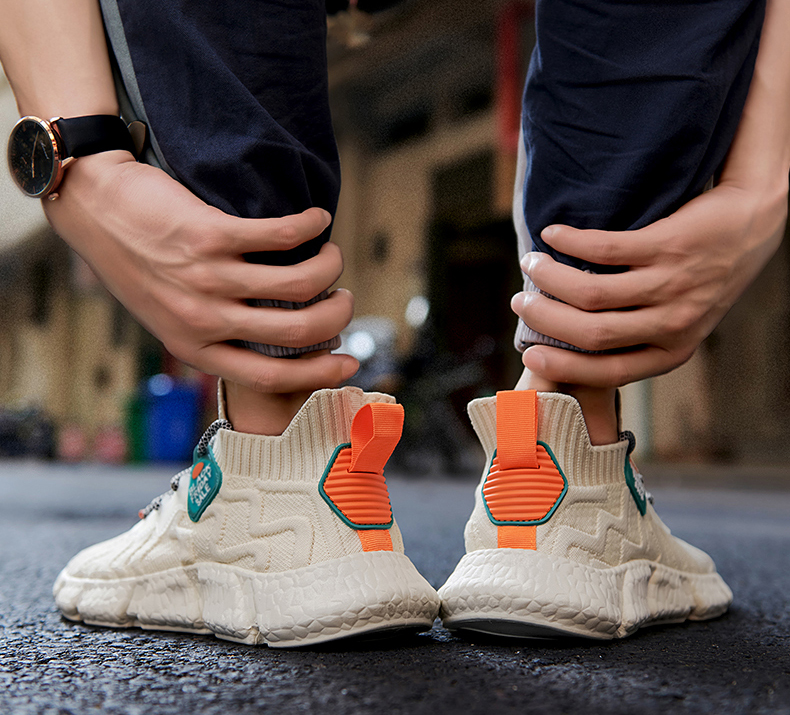 These naturally posed shots of the Yeezy Tennis Shoes Height Increasing Shoes are similar to the ones above. When you can see how these stylized, fashion-inspired shoes look out on the streets, they look comfortable and natural.
That's one of the benefits of these street-style types of photos. By taking the shoes out of their perfect environment and into the real world, you can picture yourself wearing them much more easily.
Seeing Is Believing With Elevator Shoes
With plenty of retailers online selling innovative pairs of elevator shoes, deciding on your next pair may come down to the eye test.
As beautiful as shoes tend to look in their product shots with the perfect lighting and ideal backdrops, you should also look to see if the site offers additional photos or videos of how the shoes look.
While they may not have the same photos and videos for all their shoes, knowing that they have the capacity and confidence to highlight their products and then seeing those products will help you feel more confident in making that final decision.
Where To Buy Your Next Pair Of Elevator Shoes Online
Having seen a variety of shoes in action, from formal dress shoes and sneakers to boots and athletic shoes, you probably have a good idea of the kind of shoe you're looking for to get you closer to your height goals.
For an elevator shoe retailer that provides a broad range of shoes, styles, and height lifts, Shoes That Make You Taller is a sure bet.