With September and October behind us, we're halfway through autumn. That means those lovely fall days where we can warm up with just a nice cup of coffee or tea are going to fade away, making room for ever lower temperatures and more inclement weather.
Though for many people, the winter season means the start of the holidays, vacations, and time with family, it's also the time when our wardrobes get pushed to their limits.
Dropping temperatures, snow, and ice force us to find new combinations of jackets, sweaters, scarves, and more to be able to make it about our daily business. Whether that's the commute to work or heading out for a snow trip with friends on the weekend, not having the right gear can leave you shivering in the shadows.
In some places, winter might just be a blip, a few weeks of dustings of snow and temperatures that hover around zero before springing back up for spring time. If that sounds like you, you may be able to get away without adding too much to your wardrobe.
In others, however, the days grow far shorter and the storms are more serious. When you've got winter weather like that to face, it's time to commit to upgrading your wardrobe.
And what better way to start off your winter wardrobe than with your boots?
Why Buy Elevator Boots For Your Personal and Professional Wardrobe
It's clear why boots are a go-to for men's winter fashion. Often made from thicker materials, they'll keep your feet and lower legs protected from gusting winds and splashing water. Then, their solid grip can give a guy confidence as he walks on slippery materials and uneven roads.
But that's not the only way boots can boost self-esteem. There are also a line of elevator boots, or height-increasing boots, that come with a built-in lift. If you've ever looked up fashion tips for making yourself seem taller, or felt held back in your personal or professional life by your height, these are definitely something to consider.
In the professional sphere, for example, elevator boots can help you see eye-to-eye with your coworkers. When giving presentations, you can hold a more commanding presence over the room. And when commuting or traveling for work, you can make better first impressions at travel lounges, in lobbies, and on location.
In your personal life, these kinds of boots can give you the confidence needed to spark up a conversation with that special someone. This isn't to say any one pair of shoes has some magical touch, it's just the simple way they shift your thoughts from worrying about your height – something you previously couldn't control – to being more present and comfortable in the moment. When you can give that person your attention, instead of letting yourself be distracted by your height, you're sure to have a better experience.
How Much Will Elevator Boots Increase Your Height
In those cold, blustery months, most people find themselves hunched over for warmth. With these elevator insoles which can add between 6 cm and 10 cm of height, you'll find yourself standing upright and confident.
So whether you're currently standing a bit below the average height for your country and would like to even up or you want to boost yourself to well above-average, elevator boots are a subtle, fashionable way to get there.
How do we know?
We scoured the internet for four all-important winter fashion categories: going to work, dealing with the rain, walking safely in the snow, and combating the cold.
Below, you'll find three of our favorite picks for each category with a brief recommendation so you can look and feel your best this winter.
Best Height Increasing Boots For Winter Work Outfits
Winter Work Elevator Boot #1: Men's Black Chukka Elevator Boots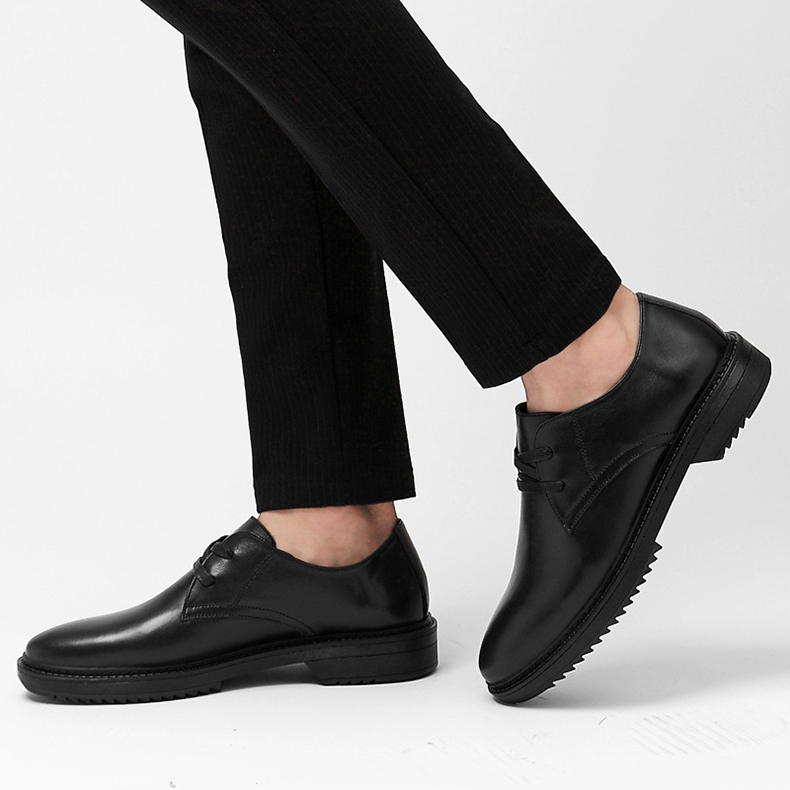 There's a lot to like about these Men's Black Chukka Elevator Boots, available with a 6 cm height-increasing lift. When you've got to find a go-to pair of boots that'll combine well with your existing work outfit, these Chukkas do the trick.
Sleek black leather and confident style let you show off your ankles during the summer, but they work just as well with patterned socks of all colors and fabrics during the winter. Plus, with the muted tones of most winter pants, like greys, plaids, and dark denim, these Chukka Elevator Boots will fit right into your rotation.
Winter Work Elevator Boot #2: Men's Elevator Boots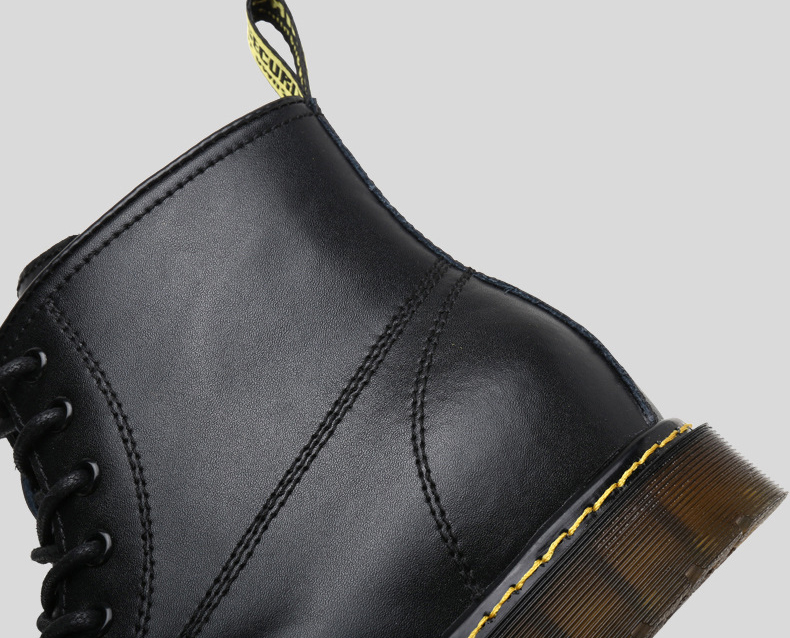 Add a pop of color with these Men's Elevator Boots, available with a 6, 8, or 10 cm height lift. With shorter days and longer nights, winters can begin to feel dreary. Plus, most people are sporting heavy coats and rain gear that's often dark gray or black.
So when you have a chance to add a bit of freshness to your outfit – without creating too much of a clash – you should go for it. The nice yellow stitching here, along with the pull tag on the top, give you a chance to stand out in the office. Still, these are professional-grade boots, with clean lines and great detailing, letting you look and feel your best.
Winter Work Elevator Boot #3: Men's Steel Toe Elevator Work Boots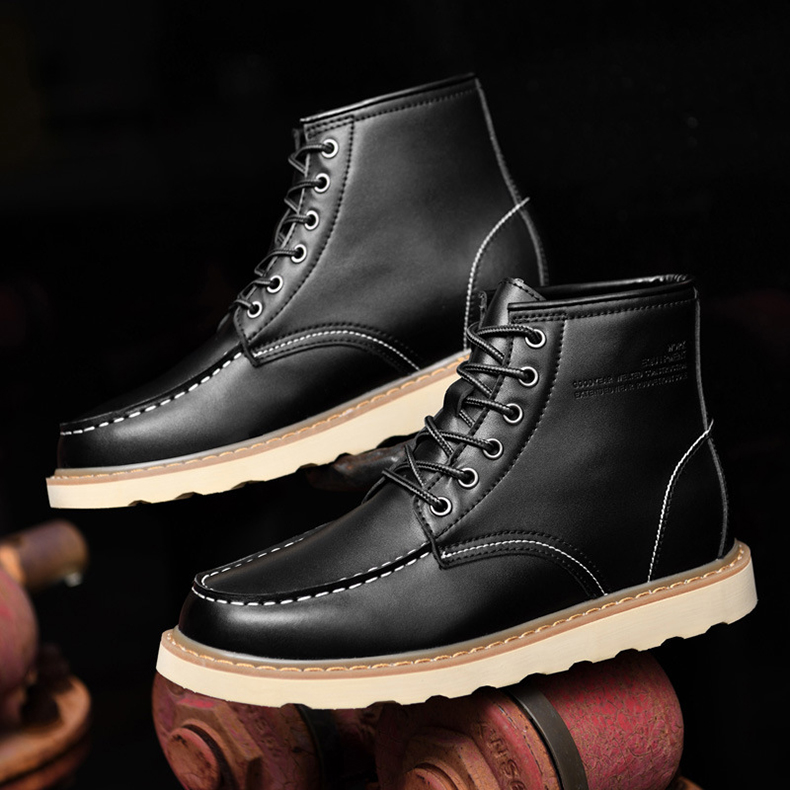 These all-around beautiful Men's Steel Toe Elevator Work Boots come in a variety of colors and height increases of 8 and 10 cm. The contrasting sole adds visual interest alongside the white stitching that covers the toe and heel for an attractive boot.
Plus, that sole is well-constructed and durable for when the winter weather turns wet, giving you the security and stability you need to commute with confidence.
Best Height Increasing Boots For Rainy Weather
Rainy Weather Elevator Boot #1: Men's High Top Hiking Boots That Add Height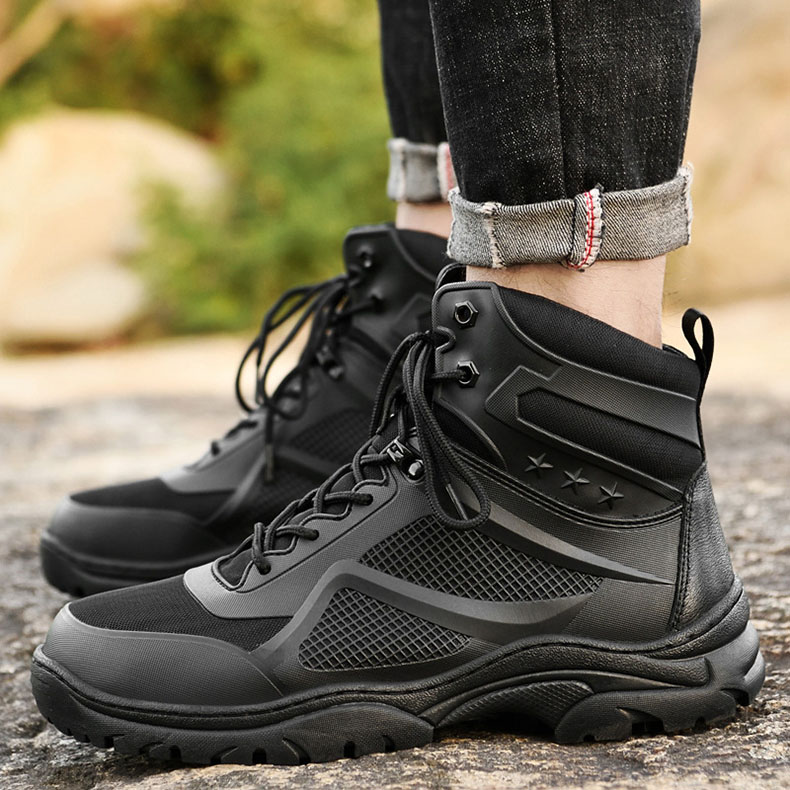 When the rain starts to pour, it's not always ideal to head outdoors. But when you don't have a choice, you might as well get out there in style. That's why we like the Men's High Top Hiking Boots That Add Height. Available with height increases of 6 cm or 8 cm, these rugged boots offer everything you need to stand tall and sure in slippery conditions.
From their stable outsoles that provide grip while you're walking to the breathable uppers that'll let your feet dry quickly once you're inside, these High Top Hiking Boots were made for around-town and offroad wear alike so that you're good for wherever your winter adventure takes you.
Rainy Weather Elevator Boot #2: Elevator Martin Boots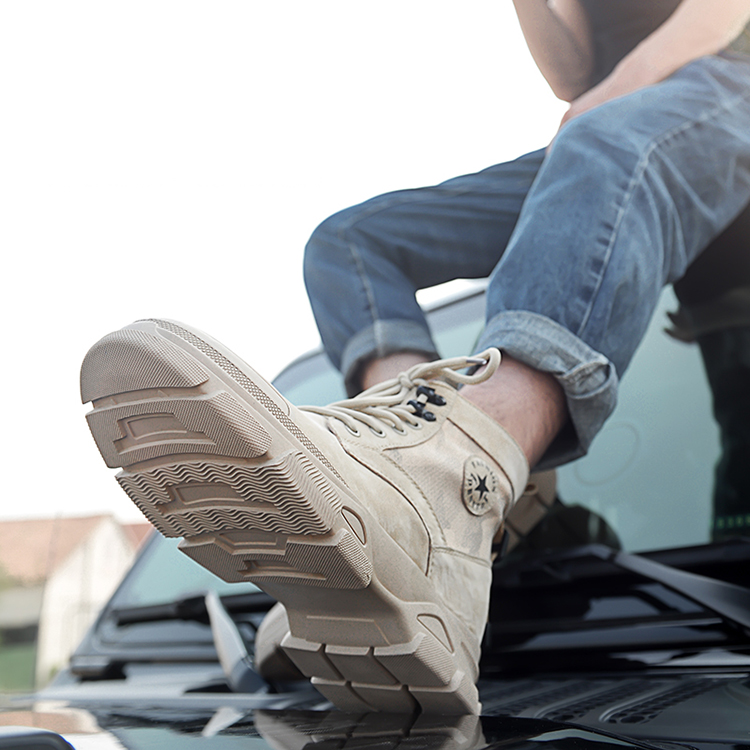 With a height increase of 6 cm and all that grip, these Elevator Martin Boots will help you find sure footing in the slipperiest weather. Seen pictured here with a loose summertime style, these Elevator Martin Boots transition equally well to the wetter months, too.
The ridged soles make sure you'll find sure footing even as puddles pop up all around you, while the thickness keeps the water from penetrating in. As you stand taller and your feet stay drier, you'll feel better than ever.
Rainy Weather Elevator Boot #3: Men's Waterproof Work Boots That Add Height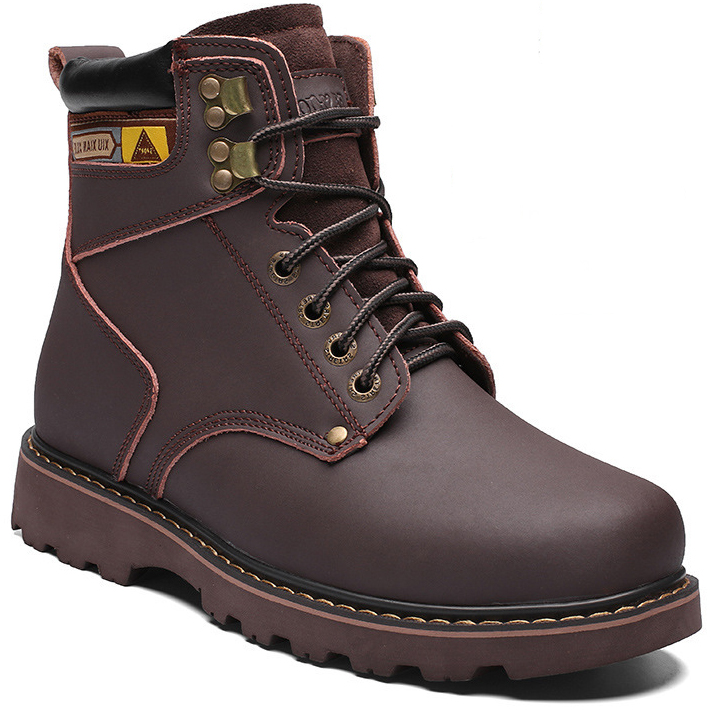 For those on-the-road jobs or outdoors worksites, you don't have to sacrifice your height just to make sure your feet stay dry. Available in a variety of height increases, including 6, 8, and 10 cm, these Men's Waterproof Work Boots That Add Height are ideal for long days out in tough weather situations. We may not all have the convenience of spending the entire day indoors, so it's important to find the footwear that fits the job.
Available in both Brown and Coffee, these Waterproof Work Boots will find their way into your professional rotation thanks to their durability, their design, and their impermeability.
Best Height Increasing Boots For Snowy Weather
Snowy Weather Elevator Boot #1: Men's Walking Boots 2 Inches Taller
What's to like about these Men's Walking Boots 2 Inches Taller, available with 6 cm of lift? A solid grip and a comfortable lining for your feet. What snowy weather means isn't just falling snow, it's falling temperatures.
So having a shoe that helps keep your feet warm and your toes dry while working well with long socks will ensure even those snowstorms don't slow you down.
Snowy Weather Elevator Boot #2: Elevator Low Top Boots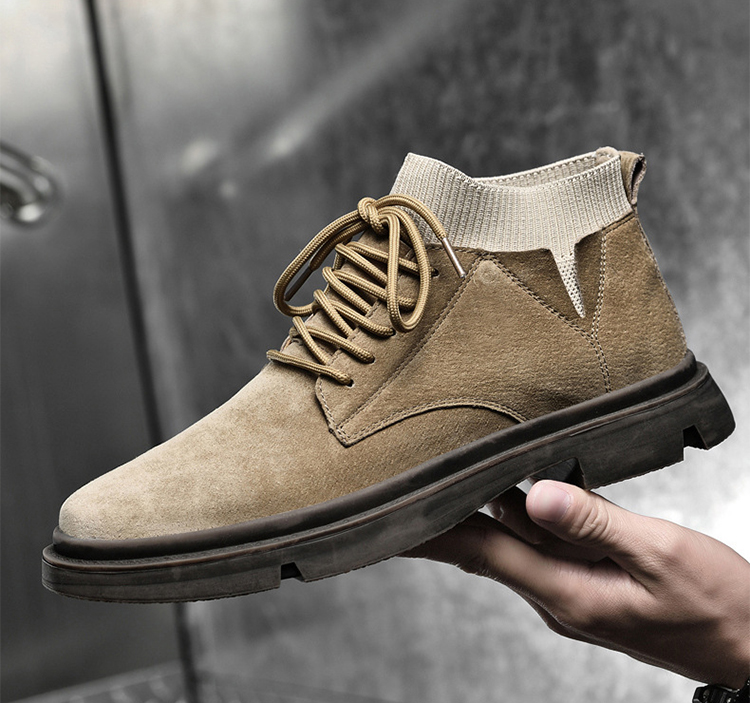 What's nice about these Elevator Low Top Boots is the fashionable flexibility they provide, while still offering a 6 cm boost. Snowstorms can often be accompanied by bone-chilling winds, so any way your wardrobe can provide you some extra warmth is welcome.
With these waterproof Elevator Low Top Boots, you've got a shoe that fits close to size to keep your feet snug as an added lining at the top locks in the heat and keeps out the cold. Plus, the solid outsole with anti-slip rubber will keep you striding along with confidence.
Snowy Weather Elevator Boot #3: Men's Height Increasing Boots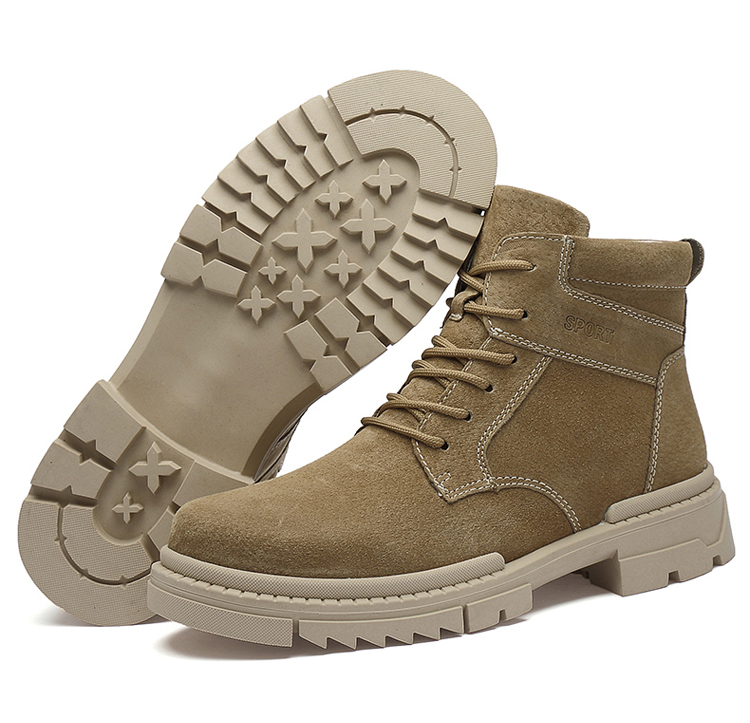 Standing tall in snowy weather is about more than just owning boots with a good grip. They'll also need to keep your feet warm. That's why we're big fans of these Men's Height Increasing Boots, available with a lift of 6 cm.
Providing an enormous amount of security thanks to the varied patterns in the sole – detailed above – they also cover up well above the ankle. By tucking in your pants and adding a layer with taller socks, you get yourself the most protection possible against falling snow and cold temperatures.
Best Height Increasing Boots For Cold Weather
Cold Weather Elevator Boot #1: Elevator Black Leather Tactical Boots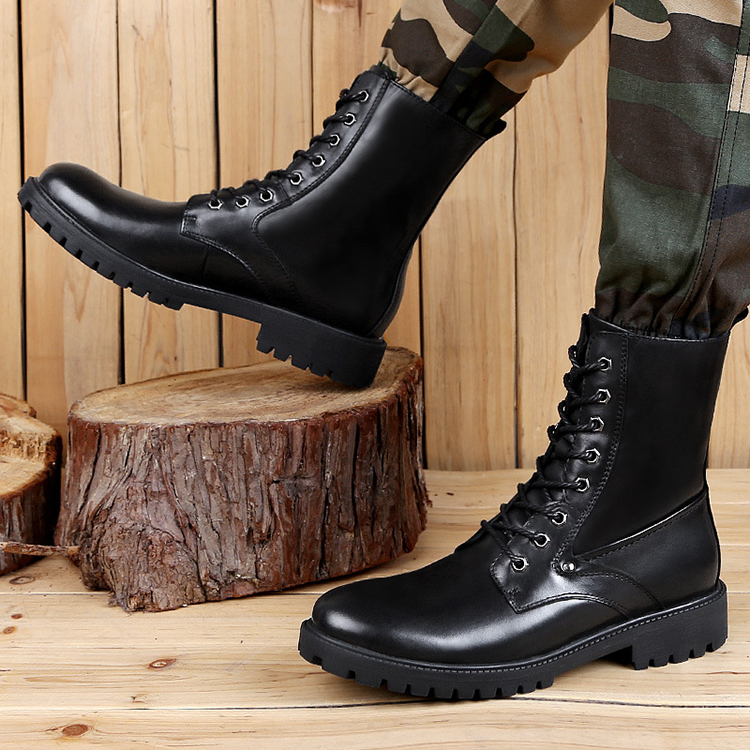 If you're looking for cold weather protection and to stand taller, consider these Elevator Black Leather Tactical Boots. With biting winds and subzero temperatures, you should be looking for wardrobe pieces that help you to cover up.
Long coats and gloves are a good place to start, and these Elevator Leather Tactical Boots are a great companion piece. By lacing up through the lower shins, you keep more of your body sheltered from the cold so you can stay comfortable throughout the day.
Cold Weather Elevator Boot #2: Elevator Combat Boots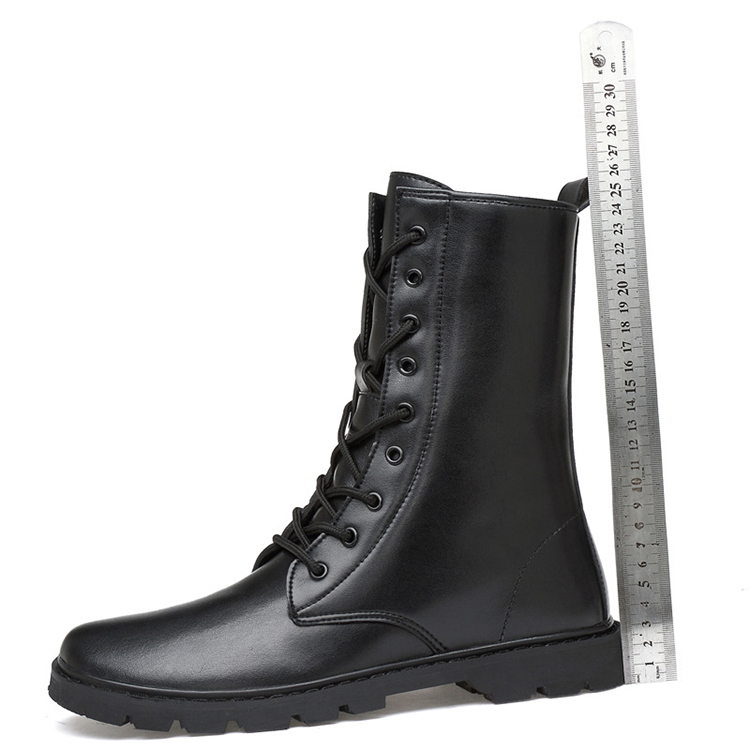 Another great pair of elevator boots for protecting your legs, these Elevator Combat Boots come with a 6 cm height lift. As above, the length of these boots ensures that more of your legs stay covered and warm in freezing temperatures. Plus, the heavy duty, anti-slip sole ensures that you stride comfortably and confidently.
For different styling options, you can consider tucking fitted jeans or pants into the boots themselves. In addition to creating a sleek, uniform look, it'll also help to keep your lower extremities warm.
Cold Weather Elevator Boot #3: Men's Lace Up Ankle Height Increasing Boots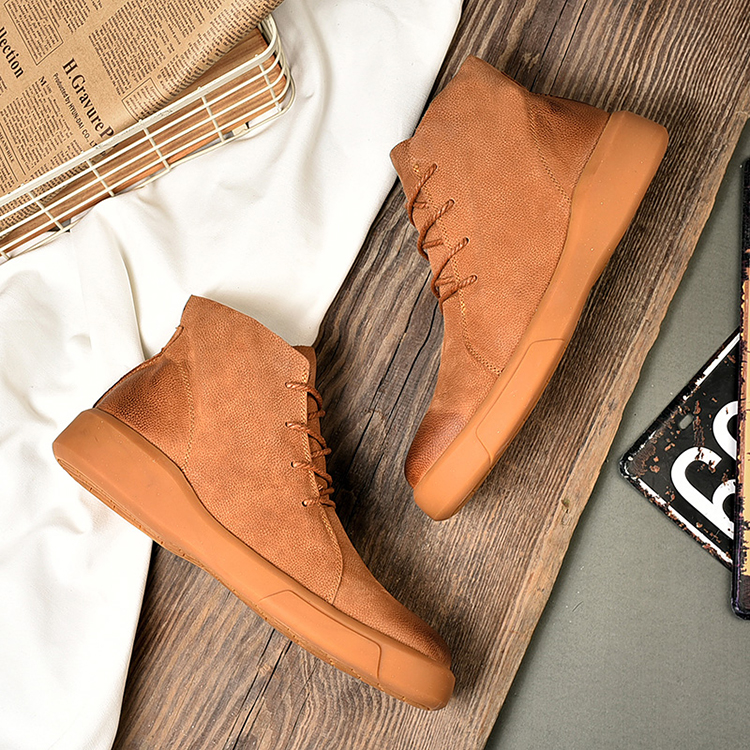 One way to fight against colder weather is with shoes that fit true to size. These Men's Lace Up Ankle Height Increasing Boots do just that, and they do it in style. The winter months can be dreary, but with a boot like these that come in Black, Brown, and Coffee, you can easily rotate through a number of stylish options even as you bundle up.
With available height increases of 6, 8, or 10 cm, there's no reason you can't look good as you're standing taller all winter long.
The Best Place To Find Height Increasing Boots Online
Though Shoes That Make You Taller is known for their height-increasing formal wear, their height-increasing athletic shoes, and their height-increasing sneakers, they also have a varied selection of height-increasing boots.
For a winter wardrobe that'll not only allow you to feel safer and more comfortable this season but also more confident, try on your own pairs of height increasing boots.